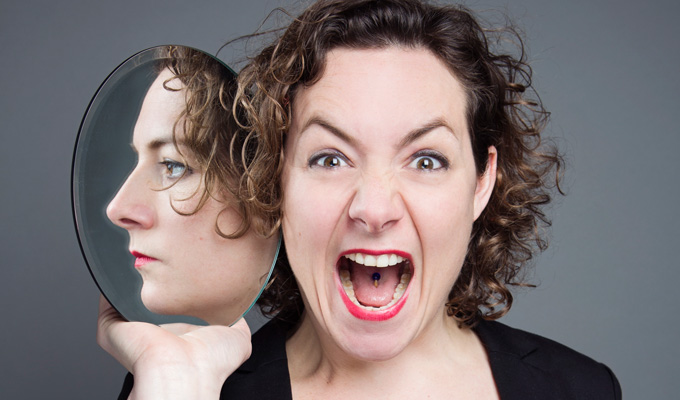 Jessica Fostekew: Imaginary Colin
Note: This review is from 2015
Imaginary Colin is Jessica Fostekew's unborn child. Though at almost 31 weeks expectant, that qualifier won't be needed much longer.
Her pregnancy has prompted her to consider what sort of a world her sprog will grow up in – from the effects of global warming to advanced robotics – which is probably the main strand of this hour. Another concerns the tug-of-war between her head and womb as to whether she should have procreated in the first place, given her precarious financial standing as a self-employed comedian, global overpopulation and – most crucially – whether she could cry off booze for the gestation.
Her account of being up the duff resonates with nearly half the audience – guess which half – but moves on after about ten minutes just in case it was proving a turn-off for everyone else, embarking on a fascinating detour about the frailties and mysteries of human memory, a train of thought prompted by her grandfather, Gordy, being stricken by his failing memory. Pleasingly, she returns to this story at the end – and there probably could have been a whole show in it.
Otherwise, there's not much of a through line, other than a collection stories that have happened to Fostekew. The longest involves the misery of breaking down on the motorway that'll be familiar to anyone who's ever driven an unreliable rustbucket, but it's a standalone anecdote unrelated to anything else. She can hold our attention as she vividly describes the misery of being stranded on the hard shoulder and let down by the breakdown guy, but it's not a specially important or memorable yarn. That is the curse of so many mid-level comics at the festival and elsewhere: why should we really care about this beyond the story being decently told?
Several of her stories end in good jokes; but a couple of segments fall flatter, not least when she talks about how social media is dehumanising social interactions and eroding privacy, she's not telling us anything new.
She's a solid storyteller, safely delivering an hour of competent stand-up. Her unquestionable professionalism might come as a boon after watching the 12th overstretched open-spot in a row, but doesn't feel compelling enough among the plethora of more imaginative offerings at the Fringe, either.
Review date: 10 Aug 2015
Reviewed by: Steve Bennett
Reviewed at: PBH's Free Fringe @ Voodoo Rooms
Recent Reviews
What do you think?