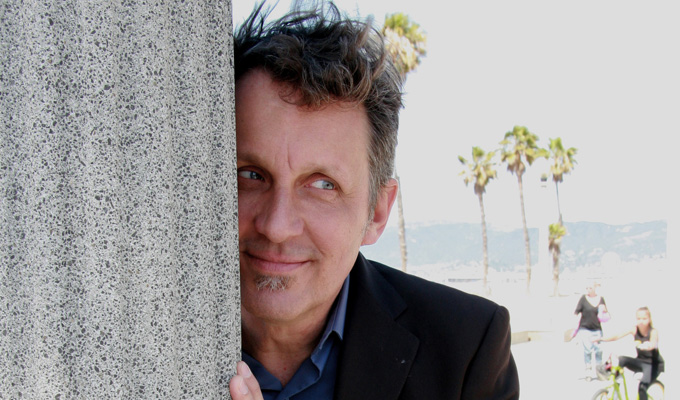 Jake Johannsen
Since you have the remarkable good taste to be reading Chortle, it can be assumed you're something of a comedy connoisseur. But chances are you've still not heard of US stand-up veteran Jake Johannsen, despite his record 46 appearances on David Letterman's show. Such relative obscurity in the UK means that he's playing to just a couple of dozen people at the Soho Theatre' tonight.
But Johanssen is nothing if not professional, and delivers a slick hour of observational stand-up regardless of the turnout. He's a class act with a sophisticated sense of timing and a mastery of naturalistic delivery – while you might bracket him with Jerry Seinfeld in the attention to detail in conveying his honest responses to the everyday.
Yet there's also a predictability to rather too many of his routines. How many middle-aged male comics talk about donning that unflattering gown and undergoing a rectal examination? How often have we heard Routines about the terrifying after-effects disclaimers on American pharmaceutical adverts? How many others have imagined how much harder intimate 'dick pix' would have been in the days of photographic film that needed developing?
Johansson's execution of these is undoubtedly stylish, and he has a talent for vividly amusing turns of phrase. But even if he has the very best versions of these observations – and in some cases he'd have good grounds to stake such a claim – the fact that the train of thought is so familiar inevitably reduces their impact.
The performance is impeccable, though, with a wry raised eyebrow or incredulous stare enough to prompt titters, as he catalogues the everyday battles that he knows he's already lost, whether they be with his wife, his self-respect or with his increasingly fallible 54-year-old body.
His domestic arrangements provide the richest seam, notably a deft story about a hamster which hits all the marks as he suffers in silence as the put-upon father whom no one listens to. As a storyteller, he breathes life into the everyday so that even a whale-watching trip in which whales were barely watched yields plenty of amusing asides.
Johanssen's an accomplished act with an innate wit and the technical know-how that guarantees entertainment. But it's also hard to categorise him as a must-see, given how safe the material sometimes is, without any 'killer' bit you'll be quoting later. But if you wanted safe date-night comedy, certain not to cause any adverse reaction, Johannsen's your man.
Review date: 25 Jun 2015
Reviewed by: Steve Bennett
What do you think?