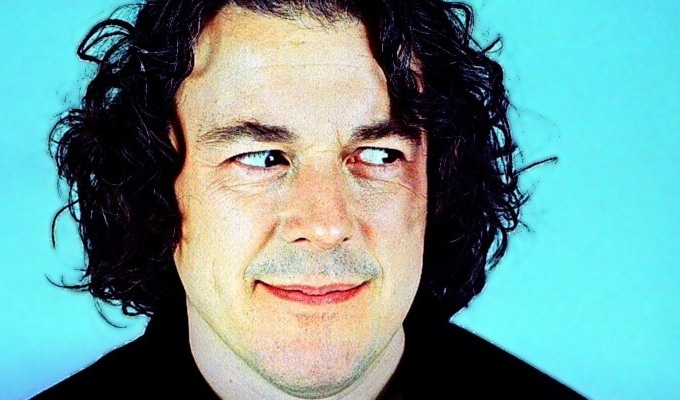 Alan Davies and Paul Merton's Impro Chums
This is a long way from pushing back the pool tables in the back room of the Dog and Duck to make way for the comedy. As the sun sets over the castellated brickwork of Cardinal Wolsey's magnificent Hampton Court Place, the courtyard beneath the fluttering Union Flag is set for a night of comedy.
The current festival celebrating 500 years of this Tudor treasure is, on other nights, hosting the likes of Burt Bacharach, Alfie Boe and Paloma Faith. But tonight it's the turn of the jesters to take over Base Court, hopefully safe from a regal 'off with his head' verdict, more brutal than any new act gong.
First up is Squire Paul Merton with the merrie bande of fooles known as his Impro Chums: Lee Simpson, Richard Vranch, Mike McShane, and Merton's missus, Suki Webster. He tells us that this gig in a 'converted caravan park' will be the last in a while, though he is going to the Edinburgh Fringe.
This gig contributes to a big week for improv, given the imminent revival of Whose Line Is It Anyway on the West End stage, but the Chums are a slick outfit, each with a professional lifetime of improvising behind them.The downside of that is that it can be hard to feel the highwire-act peril of what they do. In the opening game Die!, in which the audience cry for the eviction of anyone who fluffs a word, every comic has to fall on their sword as their interaction is otherwise too seamless to trigger a response from the crowd.
This is followed by Freeze!, in which two players acting out a scene can be interrupted by any of their colleagues halting the action and tagging them out. Tonight it became a quickfire round of one-liners once Vranch adopted the pose of a pole dancer, and every one of his teammates had a couple of smartarse one-liners to direct at him.
Translating the incomprehensible ramblings of a Belgian cycling/chess expert allowed Merton to indulge his love of spouting nonsense; while trying to guess the obscure job he was given by the audience – involving both Norma Batty and airline run by British Rail – allowed the rest of the cast to indulge a penchant for the most cryptic wordplay, which was more like unpicking a crossword clue than anything else.
No game-based improv is complete without the 'film and theatre' styles round, tonight's being most notable for the blank that American McShane drew when asked to act in the metier of Poldark. But saving the best till last, was the three-headed expert offering his insight into the brutal world of giraffe hurdling, which proved hilarious.
In the second half, Alan Davies delivered a masterclass in stand-up from the perspective of the put-upon everyman, outfoxed by his kids in anecdotes that often leave him writing in pain following some delicious series of slapstick misfortune.
He sets up the stories beautifully, as a harassed middle-aged dad, deprived of dignity. He shares confidences that paternal love can often be tested to breaking point, and even advising fellow parents why they need to pick a favourite child. What would Mumsnet say?! This seems edgier than his candid stories from the bedroom, when he tried to impress his partner with his athleticism, overcompensating for the fact he's 12 years her senior.
Other dependable subjects include the cutely odd behaviour of dogs and the nostalgia for a less cottonwool style of parenting, yet he tells it all with such skill, drawing vivid pictures with everyday language, that it feels far from cliched. Especially as the descriptions are so precise that they could only have come from first-hand experience.
Mining his own life even leads to slightly unsettling story about his Alzheimer's afflicted father and an injury his toddler daughter sustained on his watch – a section that nonetheless reinforces the authenticity and paves the way of bigger laughs ahead.
A quick poll he conducted will filing toilet-break time in lieu of an interval showed that the largest constituency here were people who, like him, were born in the 1960s – but classy personal stand-up like this transcend demographics. 'It's just Palaces for me now,' he joked of his surroundings. 'No more going back to shitholes.' Well, this routine is certainly classy enough to earn him a place among the nobility of modern stand-ups.
Review date: 18 Jun 2015
Reviewed by: Steve Bennett
Reviewed at: Hampton Court Palace
Recent Reviews
What do you think?