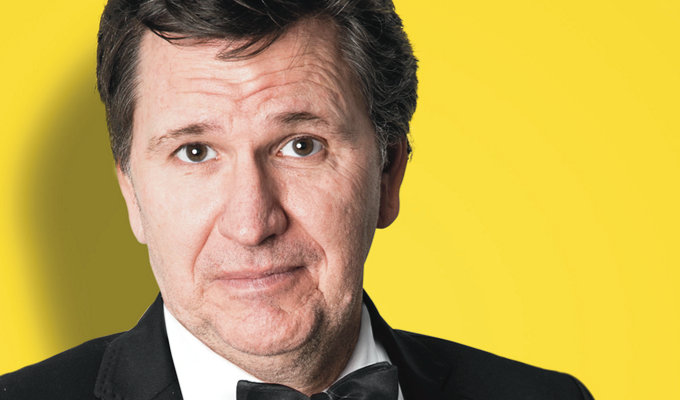 Stewart Francis: Pun Gent
Note: This review is from 2015
They never show incidents like this when he's on Live At The Apollo, but telly favourite Stewart Francis was seriously thrown off his game by a bothersome audience member last night, leading to a tense showdown, after which he never fully regained his momentum.
The man was not an outwardly hostile heckler, but a more persistent, passive-aggressive irritant, yelping at punchlines, seeking attention. He got it, earning a mild rebuke from the Bloomsbury Theatre stage, but that didn't silence him. And when he started clicking his fingers in time with a song, Francis decided he'd had enough and ground the show to a juddering halt, asking politely – he is Canadian after all – but firmly for his nemesis to leave, complaining that his presence was messing with his timing.
After a bit of a standoff, normality was resumed. But it wasn't quite normality; the intervention had broken the spell so necessary for any comedy, let alone Francis's immature, nonsensical one-liners. The very basis of his act is the conspiracy that although his demeanour is sober and measured, the words are sheer absurdity. And it's hard to act the fool when you've had to play the exasperated headteacher, expelling the naughty child who's wound you up.
Perhaps it's incidents like these that led Francis to tell Chortle a couple of years ago that he would quit stand-up in an instant if he could get a sitcom on air or forge a career as a cartoonist. Some of his single panel illustrations flashed up as the audience filed in – but sadly for his ambitions of a less nomadic life, if not for ticket-holders, Francis's wordplay works better on the stage that the page.
His best gags involve a little physical gesture to give them a fillip, and he has to be the only comic to have a punch-snort instead of a punchline for a joke that demands it. Even an apparently clichéd observation, such as Sean Connery's dismal command of accents, is ramped up into something new by his performance, silliness, and single-minded commitment to the joke. But Francis is more restrained than fellow punslingers like Tim Vine, so when he does go daft, it holds more impact.
Yet for all his cute one-liners, Francis can also sail close to the wind. There are a couple of payoffs that rest on gang rape or paedophilia, and while they create something of a frisson, the context pulls them back from potential offensiveness. He trusts his audience to know what's going on – which also means they can do a little work in completing jokes or recognising neat callbacks without heavy signposting, which is all the more rewarding.
Some of his gags can be a little predictable, the ever-present trap for wordplay, but generally obtuse set-ups misdirect, and his strike rate is high. Nonetheless, his assuredness certainly took a knock from the aggravator in the back rows tonight, adding an uncertain atmosphere that contrasted with the dependability of his material. Still, that can't happen every night…
Support came from fellow Canuck Allyson June Smith, with a wholly unremarkable set. After distancing herself from Americans, she made broad generalisations that don't really resonate and cracked gags about Susan Boyle, Shakira and Britney Spears, all of which felt dated and irrelevant. Still she can do a funny mock-Britney singing voice, the clear highlight of her routine, so you can understand her reluctance to let it go.
Review date: 12 Jun 2015
Reviewed by: Steve Bennett
Reviewed at: Bloomsbury Theatre
Recent Reviews
What do you think?