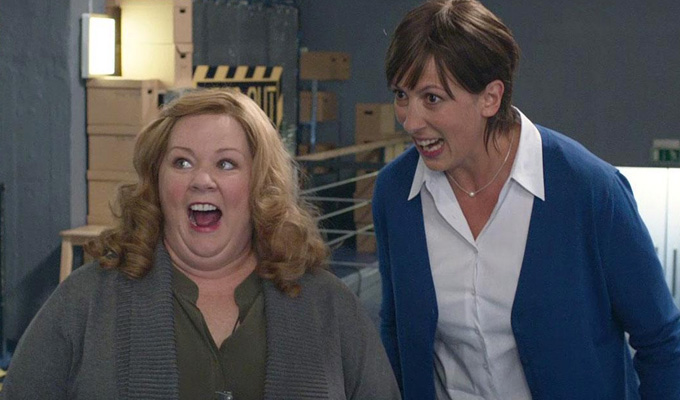 Spy with Melissa McCarthy and Miranda Hart
Note: This review is from 2015
Miranda Hart made a wise decision choosing Spy as her Hollywood debut, with her role as Melissa McCarthy's wing-woman in this endearing and hugely fun secret agent spoof playing squarely to her strengths.
Although her character Nancy is a CIA analyst, Hart could just as well have wandered into the agency from her eponymous sitcom. She's well-meaning, giddily excited and easily flustered, and in one of the film's most memorable moments, she even crashes disruptively to the ground atop a man.
Nancy's unlikely status as a spook prompts jibes from the film's villains. But not so much from director Paul Feig. Spy has a shrewd, double-edged wit whereby Hart and McCarthy's status as frumpy losers is initially, superficially endorsed, especially through the unflattering aliases the latter is forced to adopt, her secret weaponry hidden in embarrassing sanitary items.
But the film gets greater laughs from their conventionally attractive colleagues and glamorous adversaries underestimating them. And refreshingly, the versatile Peter Serafinowicz, playing Aldo, a lascivious Italian agent, also has a firmly expressed admiration for the larger lady.
Following their breakthrough collaboration on Bridesmaids, Spy is the latest step in McCarthy and Feig's blossoming working relationship. Her first solo lead and his first feature as writer-director, it's a winning combination that bodes well for their forthcoming Ghostbusters reboot. The film rescues McCarthy's reputation from the one-note roles of her recent cinematic outings and marvellously sends up the macho conventions of the action genre.
Jude Law obviously relishes giving it the full James Bond and Jason Statham, as surly, old school agent Richard Ford, has many of the funniest lines, highlighting his underused capacity for comedy with a ridiculously over-the-top parody of the intense, lunk-headed action roles that have made his name.
The film opens with a typical, Bond-like sequence in Bulgaria, where the suave Bradley Fine (Law) locates a nuclear bomb hidden in the cellars beneath an exclusive mansion party. Eliminating bad guys with consummate speed and efficiency, his secret weapon is Susan Cooper (McCarthy), a 40-year-old analyst at a desk in the CIA's vermin-ridden basement, guiding him with high-tech surveillance equipment through a hidden earpiece. They're a great team, even if he exploits her as if she were a glorified secretary or PA, while she hides her unrequited feelings towards him.
When Fine is taken out by an aristocratic arms dealer named Rayna Boyanov (Bridesmaids' Rose Byrne), who somehow knows the identities of all the CIA's top field agents, Susan is determined to avenge her partner and retrieve the device.
The plot doesn't stand a great deal of scrutiny, with the terrorists' aims ill-defined. But it's strictly secondary to character, as Susan flourishes from put-upon computer operative to arse-kicking action hero. McCarthy achieves the tricky balance of appearing violently aggressive and efficient in the frenetic fight and chase scenes, while retaining her capacity for finely timed slapstick and moments of comic self-awareness, puking in revulsion on one thug after horribly dispatching him.
Crucially, you feel sympathy for her, surrounded by arrogant men and conventionally beautiful women, with the actor displaying a more vulnerable, rounded emotional side than her brash films usually allow. At the same time though, Susan is shown to be highly capable at her job, a mocking riposte to a Hollywood blind to the idea of older female action stars.
Spy is rather too long for a comedy, with an unnecessarily drawn-out climax. And it lacks a memorable villain, with Bobby Cannavale amusing but appearing too late in the story as terrorist Sergio De Luca. The flipside to this is that Bryne serves as the main antagonist for most of the film, Boyanov's haughty bitchiness and disdain sparking deliciously catty rejoinders from Susan. Swedish comic Bjorn Gustaffson and Silicon Valley's Zach Woods also make entertaining cameos, as does rapper 50 Cent.
There are sharp lines and enjoyably daft set-pieces throughout, with Statham in particular a delight. The McCarthy-Feig team seem to be developing a tremendous mutual understanding. And as with the best spy films, there appears plenty of scope here for sequels.
Review date: 29 May 2015
Reviewed by: Steve Bennett
Recent Reviews
What do you think?