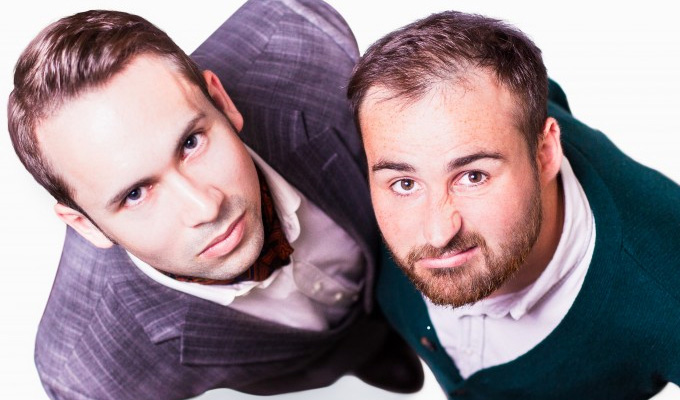 Max & Ivan: The End
Note: This review is from 2015
Max and Ivan's latest narrative sketch show is based in the sleepy, set-in-its-ways town of Sudley-On-Sea, a Ukip stronghold if ever there was one. It is a town of tapestry enthusiasts and dedicated shed-builders – oh, and a Soviet-built nuclear reprocessing plant close to the end of its safe lifespan, which provides more than enough drama for one resort.
As in all the duo's previous work, The End features a cast of dozens. There's the ultra-competitive sisters, the conspiracy nut, a randy couple who can't keep their hands off each other, the bigoted blind guy and his faithful pooch and many more – all realised in the blink of an eye by the fleet-footed pair.
The League of Gentlemen is an obvious forebear – especially in a couple of their female characters – while their nasal dullard has more than a touch of Peter Cook's EL Wisty. These are hardly the worst inspirations for character comics to have…
At the story's centre is Clive a tabloid newspaper reporter returning to his hometown to grill the corrupt local MP – as well as to try to make peace with his father, who has never forgiven him for killing his mother in childbirth. The viciously harsh putdowns aimed at his own flesh and blood is just one example of the dark edge surrounding much of the humour.
But the tone is generally silly, not least in the numerous asides. This is a story with more cutaways than Family Guy – including a lovely illustration of the insular townsfolk's aversion to spectacles or a brusque and disturbing Soviet-era atomic safety video.
Max and Ivan demand a little more audience interaction than usual, too, as a game front-row punter is recruited into being the Tinder date of Max Olesker's socially crippled loner.
For all the short standalone scenes, it's the narrative that makes the show, providing a disaster-movie plot which you want to see through to its conclusion. In the end the payoff is a little contrived, something of an anticlimax even, although it is executed with wonderful artistry.
En route, there are plenty of wonderfully funny scenes that emerge naturally from the exaggerated personality traits of their flamboyantly oddball alter-egos. Admittedly, a couple of the characters grate as they return for their running jokes, which means The End isn't Max & Ivan's most compelling show. But that is only by the challengingly high standards they have set themselves.
Crucially, the busy plot is driven forward by a two high-wattage performances – not least a surprisingly athletic sex scene that shows off their physical skills to great advantage. Aptly for a show about nuclear meltdown, it's a blast.
Review date: 20 Apr 2015
Reviewed by: Steve Bennett
Reviewed at: Melbourne International Comedy Festival
Recent Reviews
What do you think?