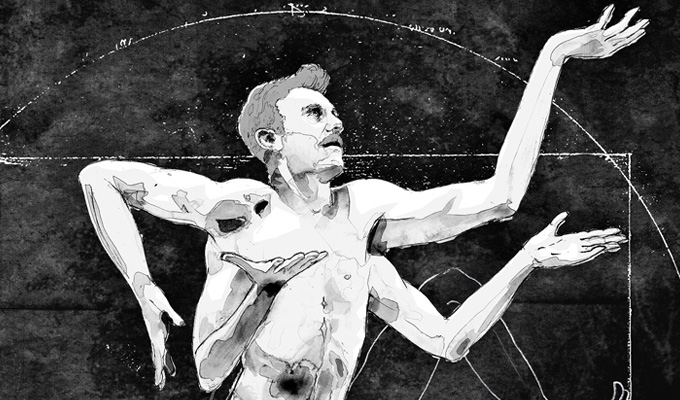 Trygve Wakenshaw: Nautilus
Note: This review is from 2015
Although it's not advertised – nor priced – as such, this is, I'm quietly told as I take my seat, a work in progress from Trygve Wakenshaw, creator of one of the best shows of last year's festival, Kraken.
How much of this will make the final cut, then, remains to be seen, though in its current guise Nautilus is disappointing follow-up. Gone are some of the things that made Kraken so memorable: primarily the visually stunning scenes and the playful audience participation, now reduced to a mischievous glint in his eye as he performs his collection of barely related, near-wordless – but nowhere near silent – scenes.
One thing that does make a comeback from 2014, is his wonderful mime of a baby bird being fed in the nest, the anticipation of a meal slowly making way for the dawning realisation of how it's going to be administered. That the reprise is his big closer and strongest scene by far does not auger well… but perhaps necessary as the wiry Kiwi has decided this show must be 90 minutes long. Why he made that arbitrary decision is a riddle – although he may have an eye on a touring show – as with no narrative, trimming the weakest scenes for a tighter hour seems a no-brainer.
Despite being a talented mime, it's still hard for Wakenshaw to hold you in his strange world for the duration… and it's fatal if your attention fades even for a second as you may miss a vital clue as to what's going on. Recurring characters in this offering include a chicken, a Wild West bartender, the sun, Aretha Franklin and her backing singers so keeping up with such a diverse cast can be a challenge. Yet despite being clad in garish, clashing, tassled clothes and peculiar make-up, Wakenshaw convincingly transforms himself into each one.
Many in the audience were howling with laugher at how hilarious the creations were, although for my money the humour in the scenes his diverse alter-egos acted out was no match for the skill of the performance creating them. A funny version of Rapunzel in which the heroine hadn't thought through her escape plan was a rare exception; and a pole-dancer-turned stripper who got carried away displayed a sick wit, even if it did have some coincidental similarities to an old Kenny Everett skit.
Maybe this will yet coalesce into a show of more substance, but the current collection of hit-and-miss scenes does not seem strong enough.
Review date: 8 Apr 2015
Reviewed by: Steve Bennett
Reviewed at: Melbourne International Comedy Festival
Recent Reviews
What do you think?