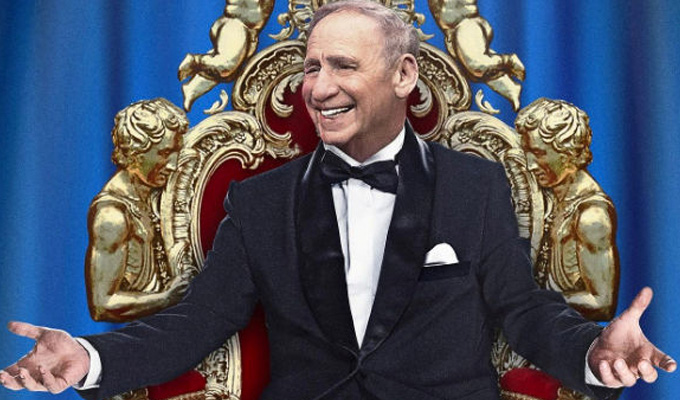 Mel Brooks Live In London
Note: This review is from 2015
Mel Brooks is the history of American Jewish humour in human form – and in his eagerly awaited London stage debut at the ripe old age of 88, he entertained an adoring crowd with songs and stories from a remarkable career. Starting in the post-war Catskill resorts, he has become one of only 12 people to have won an Emmy, a Grammy, an Oscar and a Tony.
As one of that rare breed of entertainer genuinely deserving the title of 'legend', his tales are peppered with AAA-listers. His Oscar was announced by Frank Sinatra, he started out writing alongside the likes of Neil Simon, and he got to meet his hero, Cary Grant… but, after a few lunches, they'd exhausted every topic of conversation so by the end of the week, when his erstwhile idol called, Brooks said to his secretary: 'Tell him I'm busy!'
For all the connections to Hollywood royalty, on stage at the Prince of Wales Theatre, Brooks still comes across like the affable elderly relative you hope you'll get to spend some time with at a family function.
Indeed, the show was very much a family affair, with Brooks's son and grandson in attendance (the latter even helping out when his grandfather 'forgot' some of the lyrics to the Blazing Saddles theme song). Of his mother, who raised four boys single-handedly, Brooks insisted she had gone 'straight to heaven – no paperwork, no nothing.' He comes across as a genuinely good-natured family man who also happens to be one of the funniest of the last century.
The first time the comedian saw Anne Bancroft, his late wife, she was 'a vision in a white gown.' Unable to help himself, he shouted across the theatre, 'I'm Mel Brooks.' And what did the star of The Graduate respond? 'So what?' She would later remark: 'We're like any other couple; we've had our ups and downs. But every time I hear the key in the door I know the party's about to start.'
While he talks lovingly about Gene Wilder and Madeline Kahn, more surprising are his fond memories of Alfred Hitchcock. The master of suspense sat down with Brooks when he was working on High Anxiety, a spoof of his films, and even pitched a joke in which the hero is being chased by baddies and reaches the end of a dock. He spots a boat about 12 feet away and leaps on to it only to discover it's actually coming in. Sadly, for budgetary reasons, it was never shot, but Hitchcock did like the film enough to send the director an expensive bottle of wine and a note which read: 'A small token of my pleasure, have no anxiety about this.'
It is not hard to imagine this will be the last time a veteran of the Second World War headlines on the London stage. When The Producers came out, Brooks was confronted angrily by a man who felt it was in bad taste. He was berated with the words, 'I was in World War Two.' The comic replied by saying, 'So was I, I didn't see you there.'
There were times when the star-packed audience – which included John Hurt, Rob Brydon and Frank Skinner – held its collective breath as it appeared Brooks might have lost his way but he always pulled it back with an unscripted aside. Sipping from a regular Coke (why should he bother with Diet at his age?) and wearing a black tuxedo, Brooks unfailingly entertained the adoring crowd with tales from a lifetime in the entertainment business while remaining modest. After the inevitable standing ovation at the start, Brooks implored the audience to sit down but told them to feel free to show their appreciation at the end assuming he 'did all right'.
And at the end? A rendition of 'Hope for the best, expect the worst', the theme to Brooks's vastly underrated 1970 film The Twelve Chairs. It felt almost inappropriate given his relentlessly infectious good humour and the fact that we got exactly what we had hoped for.
Late in the show, he revealed that he'd been happiest between the ages of zero and nine since it was before homework and he had no responsibilities. That may be so, but it's fair to say Mel Brooks made a pretty good fist of the next 80 years. He exited the stage to another standing ovation. He did all right.
Review date: 23 Mar 2015
Reviewed by: Steve Bennett
Recent Reviews
What do you think?