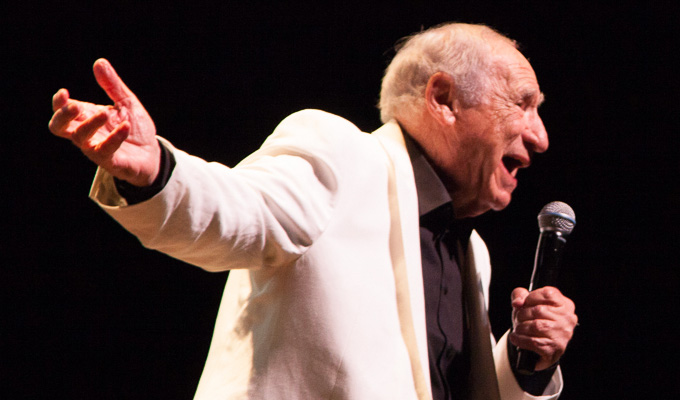 Mel Brooks
Date of birth:
28-06-1926
Born in Brooklyn in 1926, Brooks got a taste for entertaining at the age of 14 as a tummler, entertaining resort guests with antics around the swimming pool.
After serving in the Army during the Second World War, where he defused land mines as the Allies advanced into Nazi Germany and fought in the Battle of the Bulge – he became an entertainer in the so-called Borscht Belt resorts in the Catskills mountains of upstate New York.
In 1950, he was hired by his friend to be a writer on the groundbreaking TV comedy show Your Show Of Shows  alongside the likes of Carl Reiner, Neil Simon and Danny Simon.
In the 1960s he developed a double-act with Reiner, notable for the 2,000 Year Old Man sketch, and co-created the TV spy spoof Get Smart.
His first feature film was The Producers in 1968, which became a cult hit after being shunned by mainstream studios and distributors for his controversial plot about staging a bad-taste musical about Adolf Hitler. A stage musical adaptation ran on Broadway from 2001 to 2007 and transferred to the West End, was remade into a musical film in 2005 He followed that up with Blazing Saddles, notable for its satire on racism as well as the cowboy movies it was obviously spoofing, Young Frankenstein (1974), Silent Movie (1976), High Anxiety (1977), History of the World, Part I (1981), Spaceballs (1987), and Robin Hood: Men in Tights (1993). Young Frankenstein was also made into a stage musical.
He is a rare EGOT winner, scooping an Emmy, a Grammy, an Oscar and a Tony.
Brooks was married to actress Anne Bancroft from 1964 until her death in 2005.
Read More