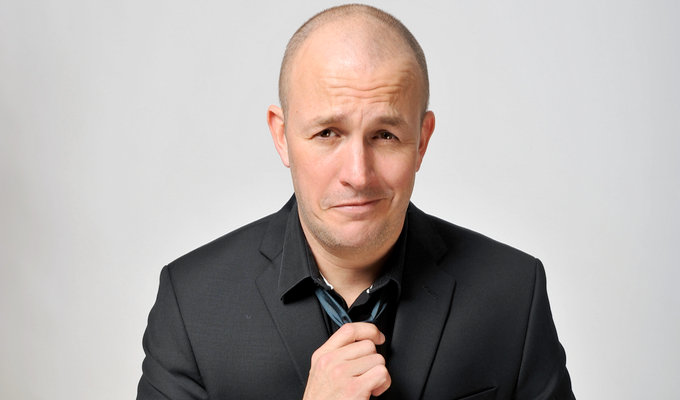 Brendon Burns: Outside The Box
Note: This review is from 2015
This isn't the sort of gig Brendon Burns really wants to be playing. It's a good slot in one of the Leicester comedy festival's hub venues – but he's so over that.
The point of his Outside The Box tour is to go off the comedy circuit piste, shunning clubs for the likes of a burrito bar, a zoo, and a Dungeons and Dragons cafe. In such places, his audience find him – as they did at his under-the-radar run at last year's Edinburgh Fringe – rather that a venue presenting him to an audience that might not be on his wavelength.
He is, in short, disillusioned with the British scene. He's weary of the 'controversial' tag and the inevitable run-ins with audiences, who are quick to take very vocal umbrage at hearing anything they might not agree with. And the Dapper Laughs situation shows, the comedy industry itself is finding a similar intolerance to those judged to have transgressed.
The demand, he feels, is now only for comedy that's universal and relatable and universal to the most self-centred of audiences – not anything that might be challenging, provocative and opinionated, three adjectives that have often attached themselves to his work.
Outside The Box addresses such concerns – most noticeably when he mockingly mimics a whining punter demanding 'I want to hear something about my toaster'. It is often a comedy show about comedy – ironically enough given his complaints about audiences being self-absorbed, but that has always been the prerogative of the artist.
There's an obvious passion here for the state of the artform he loves; and although he professes himself to be 'not immediately likeable' – perhaps down to his loud, declamatory delivery – the sincerity is more engaging than he gives himself credit for.
In analysing the state of comedy, he also doesn't entirely hide his disappointment at how this gig is going, especially as he condenses his two-hour tour show into an hour. The audience is, admittedly, a bit frigid – festival-goers waiting to be impressed, rather than automatically on the Brendon Bus to Chuckleton, as in his more intimate engagements. But the ovation at the end, which surprises him, shows the job is done.
For his rants against the world can be stingingly funny, and are tempered with a twinge of self-deprecation – or at least keen self-awareness – at when he might be going too far.
'Going too far' could certainly be said of his finale – an extended Arnold Schwarzenegger impression that deliberately tests the patience done, he says, following a dare from other comics. It's not entirely successful, but by basing it on a stronger idea than 'doesn't Arnie talk funny…' Burns does at least prove that even he most hackneyed of comedy clichés can be given a new lease of life if you put some thought into it.
Could the same be true of observational routines about toasters?
Review date: 23 Feb 2015
Reviewed by: Steve Bennett
Reviewed at: Leicester Hansom Hall
Recent Reviews
What do you think?