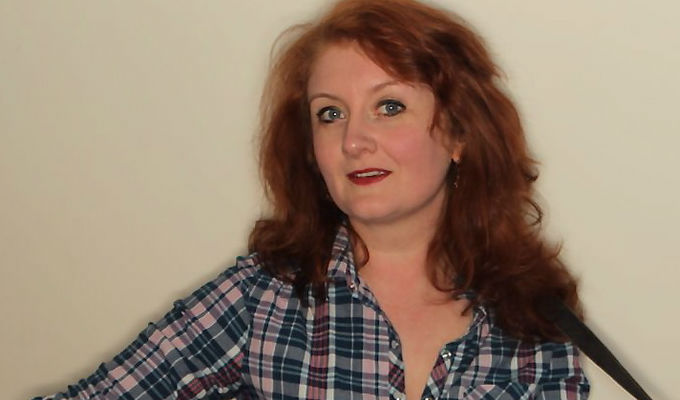 Midlands Tonight
Note: This review is from 2015
A little friendly local rivalry surrounds the Midlands Tonight showcase, as a battalion of new and newish comics from the West Midlands encroach on the biggest comedy festival in the East. Still, they pulled a sizeable audience to this intimate basement bar – a clear benefit of doing a free show.
Host Lucy Thompson tells us that this is the eve of her first anniversary doing stand-up. Like many newer acts, her creativity is relatively limited, although her confidence and friendliness set a very good mood. When she talks about being a marathon runner, despite not having an obvious athlete's physique, one great line is surrounded by chit-chat; when she says she's half-Scottish, half-Italian, it means she's some of the stereotypes of each nationality. As host, the focus is more on her demeanour than her material, which plays to her strengths, as the material would benefit from a tighter focus on the gags.
Tom Rackham similarly didn't seem to strike out into particularly new areas, with jokes about being so mashed he'd dance to a car alarm, giving off a gay vibe despite being straight, premature ejaculations and the awkwardness after sex. Again he has a confident, affable style and the jokes get enough laughs, but you couldn't call him particularly distinctive among hundreds of comics with similar lives and similar material.
Erika Benning is still finding her way, too. Half the set is unabashedly below-the-belt but suffers from diminishing returns… for example a nice line suggesting a 'Birmingham' version of the 'Brazilian' has an impact, but as she repeats the formula for other places the surprise – and the 'eugh!' factor – diminishes. The other half offers a more anecdotal approach, as she tells of a school trip to the zoo… but her storytelling skills aren't too developed, with extraneous set-up and uncertain credibility.
Tom Christian was the shared winner of the new act title at this year's Midland Comedy Awards… though with his opening line 'I know what you're all thinking …. has let himself go' will not be taking home prizes for originality. Yet once beyond discussing his appearance, he demonstrated a much keener wit. He has a penchant for intricate, silly linguistic constructs – wordplay more elaborate and inventive than a simple pun – which proves delightfully tricksy.
Hannah Silvester, pictured, won the breakthrough category at the same awards, and it's easy to see why. Again we should disregard the ice-breaker – a jaunty but lyrically unimpressive introductory song – before getting to the more impressive meat of the set. She's a woman with a lot of attitude, and a way of expressing it that is often viciously, hilariously blunt. She revels in her bad parenting, is withering about sexist behaviour, and frank about aging – all delivered with a compelling surety.
Such contrast with Fran Byrne, a clueless act who seemed to come out for more of a chinwag than a comedy routine. And when she did attempt approximations to jokes, rewriting old phrases such as 'where there's a will, there's a family' she was forced to admit, very hopefully: 'I thought that would get a bigger laugh.' The set ended with her dancing in a faux-strip tease to I'm Too Sexy like an embarrassing mum on a hen night. A car-crash all around.
Lovdev Barpaga to the rescue, then – thanks to a very funny performance from his great opening line to the end of his pun-filled set. He's old-fashioned in both writing, with proper pub-style one-liners, and delivery. He is basically a 21st Century, Asian Ken Goodwin – the 1970s stand-up who used to reduce himself to hysterics when appearing on shows such as The Comedians. It's considered vulgar to laugh at your own jokes these days, but Barpaga's chuckles at gags he must have told a hundred times before prove as infectious as ebola. He's a feelgood comedian in the finest tradition.
Review date: 19 Feb 2015
Reviewed by: Steve Bennett
Reviewed at: Leicester Exchange Bar
Recent Reviews
What do you think?