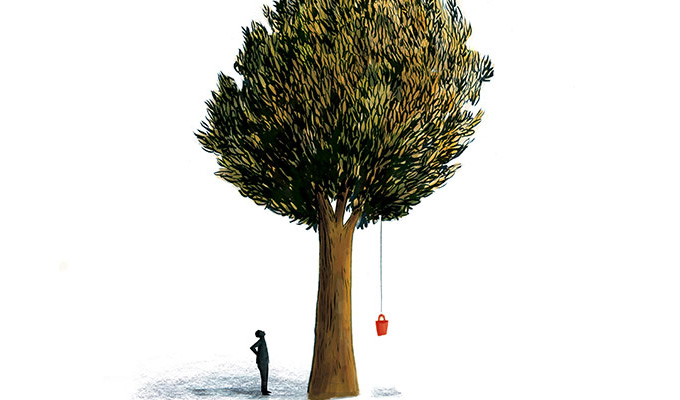 Tree, by Daniel Kitson
Note: This review is from 2015
Daniel Kitson actively avoids having a high profile, but the month-long London run of his two-hander Tree, performed with Tim Key, must be his most commercially adventurous project yet. The conversion of Kevin Spacey's estimable Old Vic into an 'in-the-round' theatre has allowed a new month-long London production of the play the master storyteller first presented at Manchester's Royal Exchange Theatre in 2013.
The audience are seated around a full-size tree; up which sits Kitson. Arriving on the residential street below is Key, flustered and late for a date. Neither characters are endowed with names, but Key's clumsy everyman is best known as 'The Pillock'.
With typical bungling, it turns out he's not early at all, but has time to kill as he waits for the elusive Sarah to join him for a picnic. Naturally enough, he engages with the man in tree; Kitson literally not putting a foot wrong as he nimbly scuttles around the branches with only a flimsy-looking harness for safety.
They form a bond over the spirited back-and-forth. Like much of Kitson's work, themes include romanticised relationships and finding joy in simple pleasures. Likes include megaphones and blowtorches; chief among dislikes is men who 'work in money'.
More significantly, ideas of pride, commitment and nonconformity raise their head as the backstory of why he's in the branches emerges. Essentially a decade-old protest gone ridiculously out of hand, he is now duty-bound to get treats winched up in a bucket, watch TV through binoculars and – yes – shit in a bag. It's the question he always gets asked…
But The Pillock has a story of his own, of a chance meeting with Sarah years after they first felt a frisson of connection despite his social awkwardness, leading to years of unrequited yearning.
The dialogue between the two men sparks, too, as they slowly come to trust each other and reveal their respective tales. Both performers are perfect in their roles, with a credible, natural delivery of pacey banter that fizzles with incredulity, wit and a growing matey admiration. There's a very minor lull once this relationship has been forged and the Kitson character describes the community politics that drove him to his arboreal abode, but we're rewarded with a great payoff.
Kitson delights in using such beautiful language as 'dappled' and 'pollarding' – but also knows of the comic impact of a well-placed expletive, if expressed with just the right tone. Many of his monologues are essentially about the interplay between two people, and enacting that with two voices here brings an extra vitality to his always-thoughtful musings.
The idea behind Tree is apparently simple, but the script bristles with ideas that will resonate long after impact of the excellent jokes – especially the ultimate punchline – have died down. This was my second viewing of the show, and knowing the twists of the delightful conversation did nothing to diminish their impact, I just got a different viewpoint – quite literally as it happens as my seat was 180 degrees away and two storeys lower than last time…
Tree is on at the Old Vic, London, until January 31. Click here for a review of the Manchester run
Review date: 6 Jan 2015
Reviewed by: Steve Bennett
Reviewed at: Old Vic
What do you think?