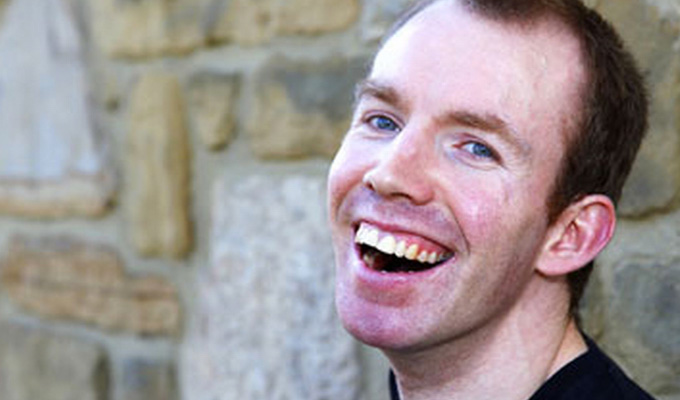 BBC Radio New Comedy Award 2014 final
Note: This review is from 2015
Switching the final of the BBC New Comedy Award to the afternoon, so it can be broadcast live on Steve Wright's Radio 2 show, guarantees it a huge bump in listeners. But it also means that acts must restrict their material to pre-watershed sensibilities. And this benefited some more than others.
First up, Hari Sriskantha had few concerns on the taste front, this likeable software developer and former physicist emphasising his nerdy side by opening with a routine on the difficulties of pronouncing his surname, a theme he returned to with neat circularity.
His social awkwardness feeds into his style, as he unapologetically segued between his issues with modern technology and a quest for immortality. Confident enough to venture a physics gag, appreciating full well that it would go over the layperson's head, his instinctive self-deprecation and romantic underdog persona was supplemented with a clipped delivery that foregrounded some clever lines.
By contrast, Thomas Ward boldly never let the audience get a read on him, his quirky set opening with cheeky gags about host Patrick Kielty and his wife Cat Deeley, delivered in an amusingly wheedling Jools Holland impression for reasons that don't require too much scrutiny. He followed up with some risky crowd work, declaring 'this is showbusiness!' with Nick Helm-like bravado and affected self-sabotage, and witty use of a backing track only reinforced his eclecticism.
He closed disappointingly with a routine about boiling water that simply evaporated, as he acknowledged, followed by some uninspiringly gruff impressions of his ex. Even so, he deserved credit for taking such risks with his opportunity.
As the self-proclaimed 'token disabled comedian', Lost Voice Guy, aka Lee Ridley, would stand out even if he didn't deliver his set via a voice app on his pre-programmed iPad. Born with cerebral palsy, Ridley monstrously exaggerates the victim role that his parents, education and society have ascribed for him, but then subverts it with dark, occasionally even cruel gags. A rather signposted pulback and reveal line is typical of writing that too often relies on his novel delivery.
He's stronger expanding upon his actual experience, as when he reflects on the legacy of attending a school with 'spastics' in the name. Ultimately, this proved enough to secure him first place with the listeners at home and he got additional laughs by having a prepared speech pre-recorded. As by far the highest profile of the finalists, you might question whether this contest was won by appeals on social media before a mic was switched on, but Ridley seemed popular in the room.
Beginning with a couple of elaborate, slightly tortuous puns, Tom Little trod a fine line between invention and material that evoked groaning sympathy, a balance that unfortunately he over-stretched on a couple of occasions, even attracting a heckle. If you were feeling charitable, you might call this meta-comedy, as he presented knowing variations on the 'what's black and white and red all over?' trope and even a Knock Knock gag finale. But it really felt as if he was struggling to reach five minutes.
Much more impressive was Amir Khoshsokhan, who shrewdly focused on a solitary tale, the failure of his relationship, toying with the audience's sympathies by intermittently switching between victim and aggressor. His measured, low-key style draws you in, attracting laughs even in the pauses. But there's invention too in his tale of a role-play situation that breaks down over the confusion between reality and acting. And he delivers a couple of satisfying kickers, damning of his behaviour, cementing his place as a roguish crowd favourite.
Finally, Brennan Reece took a while to get warmed up, babbling to little interest about the childhood artefacts his mother retains about him. Still, a line about child sweatshop labour proved more casually insensitive and brutally funny than most takes on the subject. Reece's ambiguous sexuality ought to be a trump card but hackneyed phrases like 'doing the sex' and his default bitchiness blunt this somewhat. Ultimately, the actor offers a rousing condemnation of football fans denouncing him as gay, but it's a triumph of performance over so-so writing.
Review date: 2 Jan 2015
Reviewed by: Jay Richardson
Reviewed at: Comedy Store
Recent Reviews
What do you think?