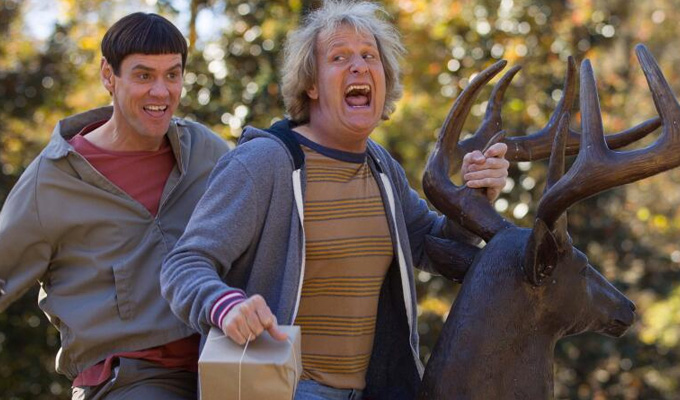 Dumb And Dumber To
Note: This review is from 2014
Miranda Hart has spoken of retiring her sitcom alter-ego because she didn't want audiences 'feeling sorry for her'. Her decision shows an astuteness the Farrelly Brothers seem to have missed in making Dumb And Dumber To.
For while watching a couple of hapless losers in their twenties or early thirties goofing around oblivious to their failures can be played for laughs, it's a much sadder situation to see characters in the fifties living in a squalid flat with not a cent, not a relationship, not an achievement to their name. To play that rather pathetic life for zany, slapstick laughs is a tall order. And the plotline about Jim Carrey's character having a crush on Jeff Daniels' fictional daughter Penny is just creepy, given the characters' ages.
This is a cynical sequel that, surely absolutely no one was calling out for, except perhaps some of those involved as they need to reinvigorate flagging careers. While the 1994 original had a lot of dopey charm, the sequel largely seems laboured, dated and desperate, sometimes unoriginal. The first verbal joke is about ginger kids. The second is a slapstick routine involving a catheter.
No one expects subtlety from the Farrellys, but gross-our comedy needs context as much as any other sort. Here that context always seems mean-spirited. The one-time goofy naifs are now much nastier, motivated by selfishness rather than misdirected innocence.
Occasionally they stick to their roots as mere simpletons, and about four decent jokes get into the script – primarily one involving a an address mix-up, and even a fart gag that makes the grade. There's also a certain charm to their frequent malapropisms, which their overgrown frat-boy humour so often misses out on. But for every line that lands there are dozens of duds, played out to silence as the actors time for laughs that never come.
The pacing goes even more off in the final third, as even the attempts at comedy are shelved for long periods to pay off a convoluted plot anyone would be hard pressed to care for. Basically Harry (Daniels) hunts down Penny (Rachel Melvin) because he needs a kidney transplant. She has been adopted by an ailing academic, who has sent her on a mission to deliver a vital package to a TED-style conference, while the professor's scheming wife dispatches a couple of hired hands to prevent that from happening.
The film will be a blot on every actors' CV, a possible exception being Kathleen Turner, who emerges with some credit for playing the once-hot girl now middle-aged – though none for her judgement in accepting this gig in the first place. That her looks are the target of a barrage of jokes is hardly edifying. The other actor that stands out, but for the wrong reason, is Tembi Locke – who as the curator of the scientific symposium has the worst English accent this side of Dick Van Dyke.
The original Dumb And Dumber launched the Farrelly Brothers' careers. This limp sequel could be the movie that buries them.
• Dumb And Dumber To is released today.
Review date: 19 Dec 2014
Reviewed by: Steve Bennett
Recent Reviews
What do you think?