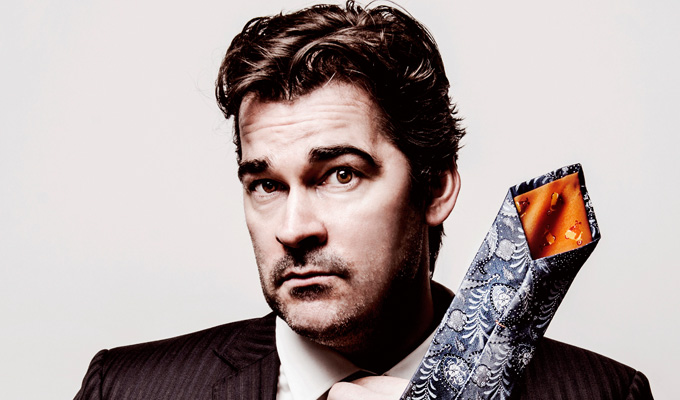 Adam Of The Riches at Soho Theatre
Note: This review is from 2014
Soho has seen some peculiar practices over the years, and now, thank to Adam Riches, it's hosting a whole lot more.
His Adam of the Riches show, making a month-long transfer to the West End following a successful Edinburgh run this summer, is a masterclass of audience manipulation as he plucks unsuspecting punters out of their seats and on to the stage to indulge in the silliest and most outrageous of role-plays.
The dynamic is fascinating as he bends people to his whim. In the guise of Ryan Gosling, he stares inscrutably and intensely at one stoic man, until he cracks under the weight of peer pressure to do something entertaining. Yet when on stage, this once-reluctant Mr Monroe comes into his own, contributing gags and building his part as he plays along with a preposterous seduction.
For such a balls-out commander of audiences, it was unusual that Riches was almost undermined tonight by a trio of idiots who insisted on talking though much of the opening scene from their prominent spot at the front of the balcony, But the comic, in the gruff no-nonsense guise of Sean Bean, 'Britain's muddiest actor', rightly ejected their ringleader – only then could the rest of the room relax.
The Bean alter-ego, incidentally, provides a perfect start. He's a domineering alpha male – not unlike Daniel Day Lewis from previous shows, or indeed the Victor Legit character with which Riches first came to prominence and who is revived here. As Bean, Riches can grab the show manfully by the neck – and not only is the performance powerful, every line of this taught scene is a gag, usually at the expenses of Bean's limited range.
A touch of surrealism, sometimes quite a hefty one, defines every unrelated scene, yet Riches commits to it – and expects his foils to do the same. That's not to say he sticks to the situation, far from it as he teases sidekicks and constantly references the ridiculous artifice in which he's engaging, providing a fruitful extra 'meta' layer of both jokes and unpredictability.
There's occasional flashes of subtlety, such as his spot-on character of 'the guy you meet straight after coming out of a long-term relationship', but generally bold and brash is the attitude. How else to get a stranger to succumb to a 'tattooing' from a man who's strapped crayons to electric toothbrushes to his hands?
The reliance on audience participation – something akin to an abusive relationship –  is the main contributor to the binding feeling that we're all in this unique experience together; and although what he expects of his victims initially feels daunting, he encourages and rewards them for playing along in the right spirit… if they do. Even so, the front row was markedly less full at the end of the show than the start as, presumably, punters made their escape from a potential starring role.
Still, when it's happening to someone else, Riches's strength of personality, or personalities, makes for another big, stupid and hugely entertaining spectacle.
Review date: 11 Dec 2014
Reviewed by:
Reviewed at: Soho Theatre
Recent Reviews
What do you think?