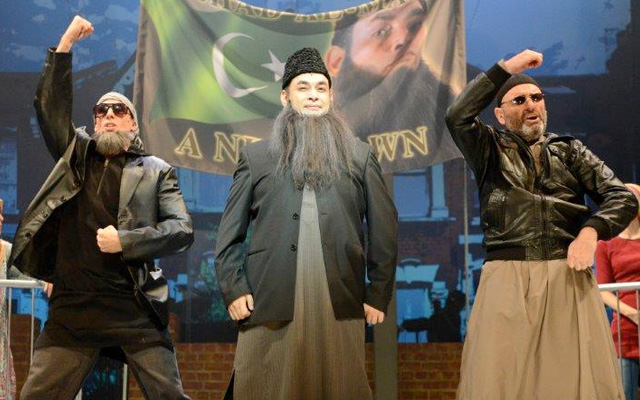 The Infidel: The Musical
Note: This review is from 2014
Writing in the programme, The Infidel's creator David Baddiel says that his favourite musicals are all religious ones: Jesus Christ Superstar, Book Of Mormon, Godspell, etc… arguing that song, like comedy, is an obtuse way of addressing topics that society finds hard to talk about.
While it would be hard to put the musical version of The Infidel into the same bracket as those proven hits – certainly on its first incarnation – the show has a great spirit, a few good gags and an intriguing hook, if not quite the satirical sharpness it needs. The highlights come, as you might expect, coming when Baddiel throws the most caution – and taste – to the wind.
If you haven't seen the original 2010 film version, starring Omid Djalili, the premise is that a semi-observant East London Muslim, Mahmud, discovers that he was adopted, and is actually Jewish by birth. A pedantic rabbi denies him access to his natural father, dying in a Jewish hospice, until he can prove he understands the traditions and the scripture of the faith he was born into. Meanwhile Mahmud's son wants to marry the step-daughter of a fundamentalist cleric – so the family must be on their most devout Islamic behaviour.
This entertaining strand is essentially a culture-clash farce, a 1970s 'oops! the vicar's coming' scenario, but the jeopardy ramped up as the C of E prude is replaced with a fire-and-brimstone jihadist. Meanwhile, Mahmud, aka Solly, gets to mock Jewish traits as his screwed-up neighbour, Lenny, introduces him to Jewish culture: from how to put the right level of world-weariness into his 'oy…' to a kitsch bar mitzvah among monied, status-orientated suburbanites.
As with the film, the tone is not subversive or inflammatory. The opening song stresses the normality of Mahmud's existence as he sings: 'I'm a Muslim don't despair/I haven't got a bomb in my underwear.' It labours the point a bit, and the lyrics aren't comically ambitious, but sets the scene that these are moderates. But after making such a literal song-and-dance about the topic, a subsequent, and uncharacteristically cheap, throwaway reference to the family's 'uncles in Rotherham' jars, more flippant than the real-life abuse demands.
It bristles because Baddiel and Ethan Baron Cohen (whose largely workmanlike melodies here will do little to establish his own fame beyond inevitable tag 'Sacha's brother'), usually steer clear of full-on Mel Brooks/South Park/Jerry Springer The Opera-style excess. But they are capable of doing it: the stand-out moments include hate preacher Ashad and his hatchet-faced acolytes skunking to to the Put A Fatwa On It ska, a burqa-clad chorus sassily disco dancing; or the Jewish party enthusiastically claiming celebrities as their own.
In putting the fun into fundamentalism, Baddiel has great sport exploring the notion of identity through a playful anthology of stereotypes… although he wants to have his rugelach and eat it, too – ridiculing the clichés while being entirely dependent on trotting them out. Sometimes he searches for deeper meaning – that disco number, for instance, is about how the mystery of the burqa can be sexy – but mostly he's happy sending up the familiar through vibrantly-choreographed numbers.
And as with the film, producing a denouement is a challenge as it demands more than that playfulness. While he artfully punctures the 'love will conquer all' cliché that could give him a contrived way out, Baddiel instead ends up with some liberal 'multi-faith nonsense' speechifying and ultimately relies on a convenient deus ex machina to defeat the evil jihadist.
The script – which runs close to three hours with interval – might benefit from more swingeing edits. Baddiel also co-directs, so might be a little precious about trimming his own sacred lines, but the cast do great credit to it. Musical comedian Kev Orkian, as previously seen on Britain's Got Talent, is a credible and supremely likeable dolt, stumbling through life with a cheeky London charm, a sort of a Del Goy, if you must. Mina Anwar, best known for The Thin Blue Line, makes for a similarly charismatic everywoman as Mahmud's wife Saamiya.
On a limited budget, it's the supporting team that are called on to be the most versatile, however. Melanie Marshall flits between Saamiya's niqab-wearing, celebrity-obsessed bestie and a stern Jewish-Jamaican (don't ask…) nurse. Melanie Masson, an X Factor alumnus, gets to power-ballad her way through the role of records office pen-pusher Mrs Keyes (played by Miranda Hart in the film) as well as a showy North London social-climbing Jewess.
They bring to life a script that's light-hearted, relevant and with the best, most sincere, of intentions – but one would benefit from more finessing ,and more of the songs that pack a punch.
• The Infidel is on at the Theatre Royal Stratford East, and has just announced that the run has been extended until November 15.
Review date: 16 Oct 2014
Reviewed by: Steve Bennett
Recent Reviews
What do you think?