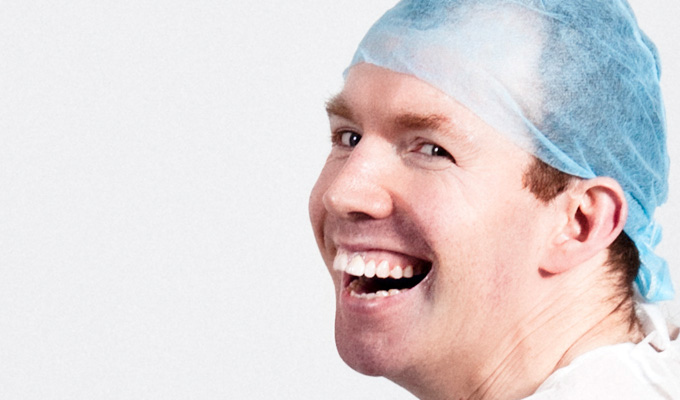 Lee Ridley: Laughter Is The Worst Medicine
Note: This review is from 2014
This is less a show about being funny as part of the recovery process, Lee Ridley – aka Lost Voice Guy – acknowledges.
During his Fringe debut last year, the comic, who lost his voice as a baby as a result of cerebral palsy so speaks through an iPad app, developed pneumonia and spent most of the festival in hospital.
So he's got unfinished business. Unfortunately though, with the novelty of his delivery less remarkable this time around, there's also less to recommend him.
The comic possibilities of the iPad itself – with Ridley affecting to engage in banter with the audience only to deliver pre-prepared responses regardless of what they say; swearing in its clipped, clinically precise robotic voice – are gimmicks that soon begin to wear thin, though the switch to a more strident voice when he wants to express fury is a nice touch.
But such is the lengthy wait for his punchlines, that each needs to land squarely. Because without any means of modulating the pace, tone or pitch, and in lieu of 'sarcasm settings', Ridley is almost entirely reliant on the quality of his writing. And in this respect, he betrays himself as a relative newcomer.
His spell in hospital gives a narrative through line to his show that he capably hangs other, tangential routines off. But his attitude towards his patronising doctor is curiously inconsistent. Initially, he seems content to give the man enough rope to simply hang himself with his condescending bedside manner. But as the story develops, he co-opts him into the smutty fantasies he entertains while bored on the ward, reducing him from a mockable, believable figure to the abstract subject of a crude fellatio gag.
Ridley tends to invest too much in conceits that aren't worth the lengthy follow-through. He wrings bone-dry the idea of the 'Edinburgh wall', that moment of mental and physical ennui that hits performers a couple of weeks into the festival by imagining it as a literal obstruction. Elsewhere, a supposed feud with Professor Stephen Hawking culminates in an imagined revival of Robot Wars with the pair of them competing. That's potentially amusing but delivered with a soporific attention to detail in recreating every aspect of the battle.
Generally, it's the temptation to always reach too hard for the gag that does for Ridley, when glimpses of the reality of his condition are much more compelling. His feelings about being rejected from the television show The Undateables and how he copes with trolls on social media are funny and believable. His characterisation of the able-bodied as the not-yet-disabled, perceptive and archly reflected upon.
I'm not suggesting for a moment that he should only talk about his cerebral palsy. But with that currently his overwhelming focus, it's only those moments grounded in truth that really make an impact.
Review date: 24 Aug 2014
Reviewed by: Jay Richardson
Reviewed at: Assembly Rooms
Recent Reviews
What do you think?