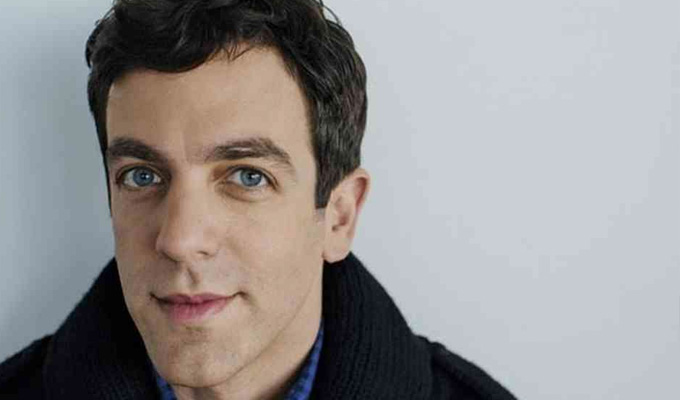 BJ Novak: One More Thing
Note: This review is from 2014
Despite Assembly's best efforts, there's no disguising that this venue is a university lecture hall, and as BJ Novak, star of the US version of The Office, takes his place behind the lectern, it's clear this is no stand-up show.
Apparently taking his lead from Charles Dickens, Novak is here on a book-reading tour to promote his short story anthology One More Thing, published earlier this year. And he'll probably shift a good many copies following this hugely entertaining hour in which he vividly brings his fictional creations to life.
There's a luvvie chat at the start when he tells us about his 'process' – it's a bit Hollywood, but also explains that the tales had their genesis in live performance, when he'd refine them based on audience feedback, like any comedian working on new material. It's certainly given most of the stories a punchy edge that sustains the inventiveness of the scenarios.
He starts with a deconstruction of the obviously deeply flawed fable of The Tortoise and The Hare, which is easy to pick apart, as Lee & Herring did so brilliantly so long ago, but as in all of Novak's stories the joy is in the realistic, acutely observed detail.
He has an especially good ear for realistic dialogue, and that's never stronger than in his next tale, about a tipsy, none-too-bright girl out on a date with a a warlord as they chit-chat away about flourless chocolate cake and Malcolm Gladwell, as if it were just another job as they. It certainly benefits from being read aloud, with the perfect inflections to draw out the natural wit.
There are a couple of quick stories to vary the pace; while No One Goes To Heaven To See Dan Fogelberg is a longer, more considered piece set in the afterlife raising thought-provoking questions about both legacies and selective memories.
Novak also promised us extracts from his next book, a children's volume called The Book With No Pictures, but never got around to that, which is a shame as it'd be fascinating to see what his creative mind did with that genre. But thanks to an audience Q&A we did learn that the story he'd most like to see made into a film was Welcome To Camp Fantastic For Gifted Teens, which he didn't read tonight but envisages as overseen by a twisted Johnny-Depp-as-Willy-Wonka billionaire.
Depp does get his own story, one Novak isn't sure made it to the UK because of our libel laws, though it's not in the least defamatory, just another of Novak's typically cunning, offbeat ideas, stylishly expressed and classily performed.
• Click here to order One More Thing; or here to preorder The Book With No Pictures.
Review date: 21 Aug 2014
Reviewed by: Steve Bennett
Reviewed at: Assembly George Square
Recent Reviews
What do you think?