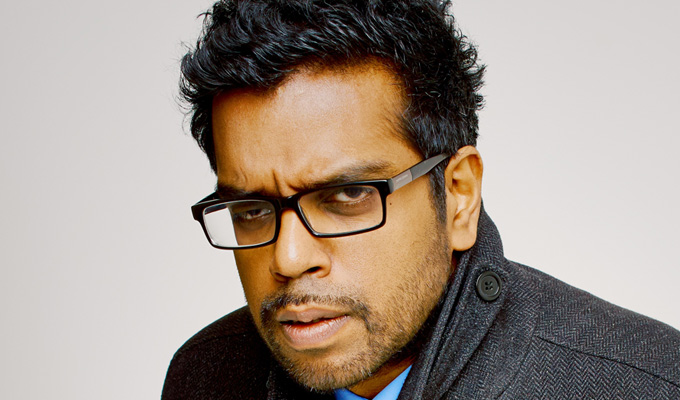 Romesh Ranganathan: Rom Wasn't Built In A Day
Note: This review is from 2014
Romesh Ranganathan is the voice of common sense. And it turns out that voice is a grumpy one, coming from a man who seems to have more empathy for animals than people - and that includes his own kids when they test his patience.
That attitude is not exactly unheard-of in comedy, and it's expressed in an hour of robust, loosely related and logically argued routines that consistently amuse but rarely soar into something more. When the likes of Louis CK are in similar territory, the bar is set mighty high.
One of his strongest segments concerns the narcissism posing as philanthropy behind most 'clicktivism' campaigns, such as  the current ice bucket challenge or the no make-up selfie. It's spot-on and wittily well argued, but played as a mild grumble rather than passionate rant.
The nominal thrust of the hour is that he's a bad dad, a bad husband and, it turns out, a bad feminist, despite his stated liberal opinions. Although, of course, the fact that he's aware of these flaws means he's not as awful as he might pretend – and the title refers to the fact he's trying to improve. He's an ex-teacher and still carries that 'could do better' attitude, but applied to himself as well as others.
He's also a vegan - which he doesn't particularly like either, but the miserable choices he winds up with seem to be a source of self-flagellation, fitting in with that 'I'm not worthy' theme, which actually serves him well when making a connection with the audience. But then he makes typically good cases for not eating honey, a reform of horse-racing and for the closure if Sea World - though he wonders why it took a documentary to do our thinking for us.
A contrarian tone fills other routines, whether it's mocking Batman, insisting his kids listen to rap to toughen them up, or excusing a specific type of racism. Who is he to judge? He can't even control his bladder, as he details in another of his stronger stories, allowing us to revel in his humiliation.
His interaction with the audience is overly spiky, tonight especially, it seems, but all is told with a downplayed confidence and a sure sense of timing. He's certainly an eloquent spokesman for the mild misanthropy of a middle-aged family guy.
Review date: 21 Aug 2014
Reviewed by: Steve Bennett
Reviewed at: Pleasance Courtyard
Recent Reviews
What do you think?