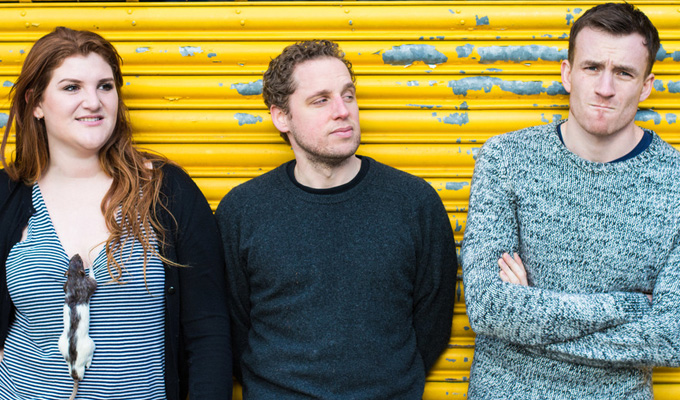 Rat: Induction
Note: This review is from 2014
This is a pretty darned assured debut from a sketch trio who've been working together for less than a year.
Rat are strong performers able add a peculiar twist to everyday situations, keeping them credible but odd, in an hour that boasts some real stand-out moments.
Their bereavement counsellor scene is the clear favourite; an idea that seems obvious but only in retrospect, as it's carried out faultlessly. The misdirection comes because the characters are so convincing that you put aside the fact this is a comedy show in which the expected run of events is likely to be derailed, so when the punchline comes, it's a surprise.
And even sometimes you can see the direction a sketch is heading, the skilful execution carries you along For example, one set at the building of the Pyramids – the ancient Egyptians having very modern personally traits – slips wonderfully into madness; a contrast to the relatively restrained performance of much of the hour.
The framing device is that the trio –  Alistair Donegan, Dave Newman and Camilla Whitehill – are being induced to a new environment. They sit together as a disembodied voice of god 'Sandra' asks them about their backgrounds, cueing lots of zither sound effects into flashback scenes.
When they go back to their individual childhoods, the sketches are all about the shattering of innocence, the actors adeptly slipping between adult and kid roles; the section about past jobs allows for some workplace sketches, such as a former News Of The World journalist trying to apply his tabloid sensibilities in the real word; while a longer scene at the end describes how they all got here.
There are no real gimmicks, and yet even the scenes that don't zing have a distinctive energy and pace. Rat don't quite feel like any other sketch outfit – which considering they superficially follow the sketch archetype of three relatively well-spoken white performers in their twenties, is quite an achievement.
Review date: 16 Aug 2014
Reviewed by: Steve Bennett
Reviewed at: Just The Tonic at The Tron
Recent Reviews
What do you think?