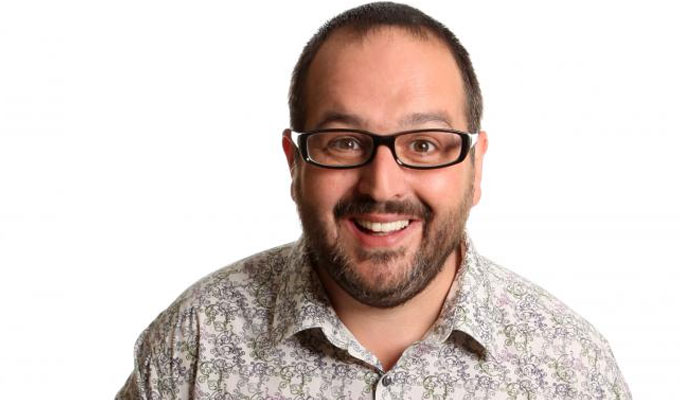 Justin Moorhouse: This Is What I Am
Note: This review is from 2014
Vigorous and likeable, Justin Moorhouse says: 'There's no real meaning here, I just go for it.' And he absolutely does. His energy begins high and doesn't flag for the whole hour, carrying an audience of fans before him. The rapture with which they greet him is enviable.
His qualities are of the everyman, average dad, rubbish boyfriend and good dog walker, making everyday gripes and observations hilarious by repetition or by accumulation of intensity. It's the comedy of domesticity, comfortable marital strife and childminding that speaks to people of their own experience and giving voice to lives of low level disgruntlement.
He strikes some off-notes, though intentionally. Acknowledging that half his audience come from down the road from where he lives, he refers to the others of us, possessed of the pasty-white, clenched buttock, festival-going, Guardian reading mentality (he may not say Guardian reading, but that's the shorthand profile) who may worry about where he's going when talking about his friend Abdul's corner shop. 'Is he going to do the voice?'.
Well, it is on the cards, as he's already done the Stevie Wonder head wobble for a blind person, thought an Indian man was pretending to have an Indian accent (which begs the question why didn't the think the Canadian bloke was pretending to be Canadian), quoted his racist Nana, and scoffed at diversity training. Quoting other people's racism still airs it, with only the mildest condemnation.
Of course comedians are meant to have a crack at our sacred cows, but there are some soft targets here, and not so much afflicting of the comfortable. I don't think he's got a racist bone in his body, but these are jarring moments in an otherwise screamingly funny set.
But not to get hung up on that, the prevailing feeling is a joyous sharing his discontent with his life with an adolescent son (there's a beautiful description of him being just 'a yawn in a hoodie') the utterly humdrum minutiae of comic life on the road and a wonderfully savage description of family trip to an owl sanctuary, where the grumpy birds of prey get their own stadium gig before he ever does.
His spitting feathers about the cost and tedium of the day out brings the show to a comically irascible climax. He's warm and compelling, greatly entertaining, but not without causing moments of awkwardness to those of us of a more anxious disposition.
Review date: 16 Aug 2014
Reviewed by: Julia Chamberlain
Reviewed at: Gilded Balloon Teviot
Recent Reviews
What do you think?