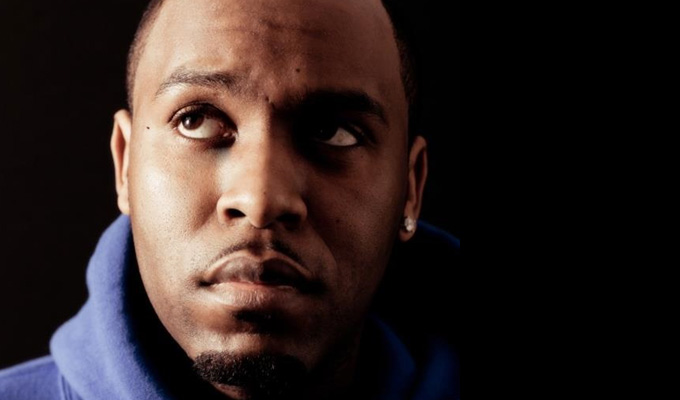 Dane Baptiste: Citizen Dane
Note: This review is from 2014
Please don't let Dane Baptiste get swallowed by the corporate comedy machine. He's the sort of act the mega-agents love, because the public will take to him instantly. He's smart and affable, confident yet self-effacing, able to talk with wit and style about his life, his observations and his opinions.
His debut is slick and classy, sure to make waves… but he also needs just to go that extra yard or two to convert some of this bright, conversational stand-up into killer routines, which he surely has in him. And those skills can only be honed live, not on a never-ending whirl of panel show appearances, which he's likely to find himself on following this assured debut.
But if nothing else comes from this hour (and it does), it's that Baptiste has a clear head, demonstrating he knows exactly how to treat an idea comically, and present it to the audience with charm and controlled energy. He plays the marginally low-status card, portraying himself as something of an outsider, which ironically gives him a kinship with the audience.
That feeling of not fitting in comes because he's privileged compared to the tough life of his parents. But his stable family background made him an outcast from the rude boyz he grew up with, while being from Grenada meant he didn't fit in with the white kids either. There's an authenticity to his tales of these experiences, slightly apart from the norm but without artificially inflating any difference to be more than they are.
But themes are worn lightly; this is a free-flowing hour of solid stand-up that Baptiste can take in any direction he wants.
Sometimes he applies comic formulae a little too closely. Once he's come up with the strong idea of Grenada's native crop, nutmeg, being outlawed like marijuana, the subsequent routine follows the expected pattern of a 'what if?' routine precisely – right down to gratuitous callback. It's funny, but you can see his workings.
Yet elsewhere he does take us to some imaginative places. There's a take on the tooth fairy and a routine about Superman that both end with cheeky, perfectly-worded payoffs; while his analogy between teachers and immigrants is very nicely done. The education professionals in the front row love it.
A rejected title for this show was Who Is Dane Baptiste? A question fewer and fewer people will surely ask over the years – especially if he can develop his already-admirable craft at his own rate. This impressive calling card answers that question, as Baptiste firmly plants a Grenadan flag into the fertile soil of British stand-up.
Review date: 14 Aug 2014
Reviewed by: Steve Bennett
Reviewed at: Pleasance Courtyard
Recent Reviews
What do you think?