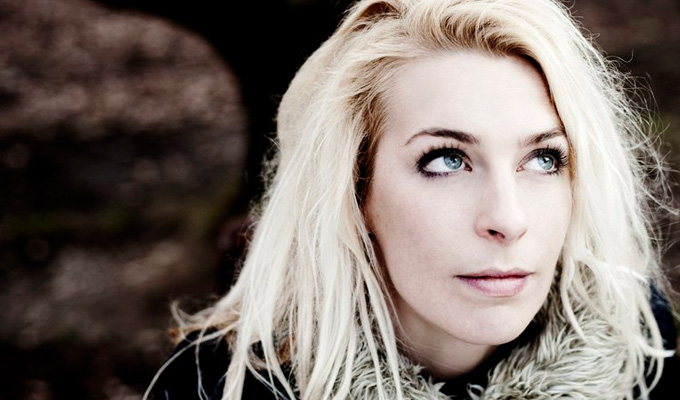 Sara Pascoe vs History
Note: This review is from 2014
Evolutionary theories of sexuality aren't, oddly enough, the most obviously sexy topic for a comedy show, with talk of competitive sperm, selfish genes and Victorian societal values influencing scientific opinion seeming something of a buzzkill.
But Sara Pascoe covers all this and more in a super-ambitious, meticulously researched show that also hits the feminism zeitgeist as well as including confidently frank anecdotes about her own sexual experience – and her mother's unusual methods of snagging a man.
The result is something of a lecture as she expounds wide-ranging theories on sexual frustration, infidelity, nuclear families and the everyday sexism of FHM and Robin Thicke, all viewed through the prism of her experiences. So the stand-up staple of talking about her relationship becomes the basis of case study as she delves into the reading material to find out why things are as they are.
When it comes to the moral questions, she found that things are never quite as black and white as she would hope – or the hastily-formed Twitter consensus of her liberal friends would suggest. Yes, she supports the No More Page 3 campaign, but what of those women's rights to express themselves and earn the Murdoch shilling? So an imaginative alternative solution must be found, and she has one.
Less easy to solve in a comic way is the dichotomy between those who would ban the burka as an symbol of male oppression, and those who say the state has no right in saying how a woman can dress… that question is left to hang in the air. Comedy likes certainty, so getting a hard-hitting punchline out of some of this is difficult.
Now she's well-informed, her directness about discussing her sexual wants on stage causes some discomfort to her boyfriend –  also a comedian on the Fringe, gossip fans –  but not to the audience, who appreciate the honesty, nor to herself, who doesn't want to see natural urges considered clandestine.
You might take from this that there is a slight academic tone, and there is – not helped by the venue being a thinly disguised lecture theatre. However, it is a fascinating discourse, tempered by her knack of adding quirky comedy tags to the facts. Plus she has a disarming, self-aware way of undermining any superiority by portraying herself as something of an impostor in this world of knowledge, wearing it lightly. She also proves she's a relaxed, in-control comic, making good sport with the latecomers without demeaning them - which would rather go against her overall spirit of positivity.
Pulling all this together is an mighty achievement, and it's hard not to be impressed by that. The 'but…' is that while the hour is consistently amusing, hearty laughs are scarce, as there's a comic punchiness missing from some of the longer sections where informing takes priority over entertaining, but only narrowly.
If the Royal Institution are looking to 'gag up' their annual scientific Christmas lectures, they might want to get Pascoe on the phone.
Review date: 11 Aug 2014
Reviewed by: Steve Bennett
Reviewed at: Assembly George Square
Recent Reviews
What do you think?