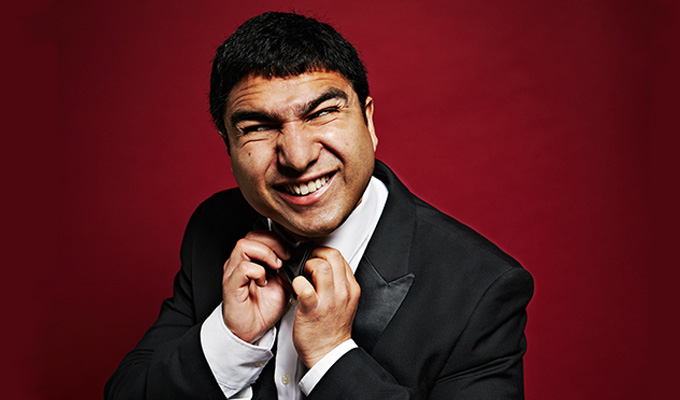 Mr Swallow: The Musical
Note: This review is from 2014
What a way to start a show! Not just an opinion, but also the tongue-in-cheek opening number of Mr Swallow: The Musical. And given that Nick Mohammed's entrance as his camp, skittish Northern alter-ego is likely to be one of the single most hilarious images of this Fringe, the sentiment could not be more apt.
There's nothing actors like spoofing more than acting, and this follows in a fine tradition, although what sets Mr Swallow apart is the scale of ambition. Rather than try to achieve spectacle on a budget, this production has a cast of four plus a five-strong band. And still they screw it up.
Which is, of course, the joke. The idea is that this is the final dress rehearsal of a new musical version of Dracula, with Mr Swallow cast as the vampyric villain. But never has the undead been so jaunty, performed with high-pitched excitability and irritating ego. Our restless diva is unhappy with his role, stealing scenes he's not supposed to be in, trying to add new songs, rewriting crucial scenes, and even workshopping a new character, after Bram Stoker foolishly omitted to include a feisty jobsworth female travel agent in his original novel. All to the dismay of his long-suffering director, Mr Goldsworth (played by hangdog comic David Elms, who also doubles up as monster-hunter Van Helsing).
There are some priceless sketches in the stop-start rehearsals. Mr Swallow's attempts to say the word 'satsuma'; his efforts to roller-skate as elegant as a three-legged baby giraffe; the dignity-stripping physical comedy as Dracula is made to 'fly' across the stage. Wonderful scenes, all.
For contrast, these are set against earnest attempts to do the musical properly – and in fact the 'real' scenes are pretty well done, boasting impressive singing, particularly from Joanna Grace. But then Mr Swallow will come in and trash it, like a modern-day Frank Spencer. At one point tonight, his exploits cause Kieran Hodgson to genuinely corpse while playing Jonathan Harker, very entertainingly.
Yet Mr Swallow doesn't hog all the laughs, and the show keeps you on your toes as to where the next piece of insanity may come from. Even the interval becomes a song-and-dance number, typical of the big, bold, brash and stupidly over-the-top comedy.
Being rough around the edges is its charm, and also its Achilles' heel, as all is rather too chaotic to get a handle on. But the best, sloppiest, scenes are hilariously uninhibited and brilliantly executed. Mr Swallow is a character as enduring as he is comically irritating, as the ceaselessly creative Mohammed has proved over the years. Like the titular Count, I don't think we've seen the last of him.
Review date: 6 Aug 2014
Reviewed by: Steve Bennett
Reviewed at: Pleasance Dome
Recent Reviews
What do you think?