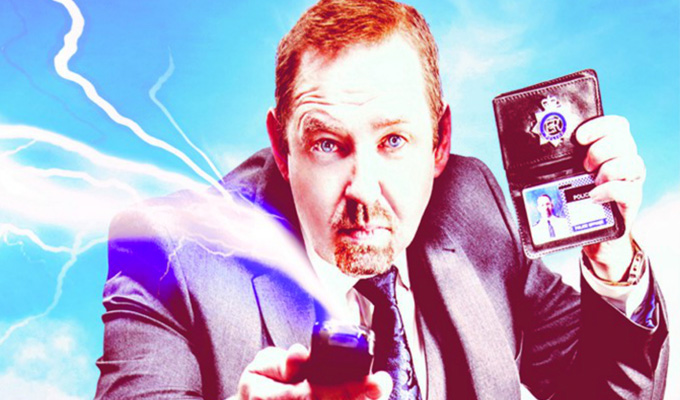 Alfie Moore: The Naked Stun
Note: This review is from 2014
'You've got to have a sense of humour in my job,' says Alfie Moore, which given he's a comedian should probably go without saying.
But, of course, he's talking about his first career as a policeman, which ever-increasing numbers of people are becoming aware of – not least because of his recently-ended Radio 4 series, It's A Fair Cop.
This year's Edinburgh show also marks a return to talking shop, the one thing that makes him distinctive in comedy. Last year he brought to the Fringe his 'personal journey' story, about his gambling addiction – only to find three other comics doing the exact-same thing. What, if you'll excuse the expression, are the odds of that? But an hour about chasing a compulsive flasher around Humberside, CSI: Scunthorpe-style, that's unique.
Straight-talking Moore – or Tango Bravo Three to his control room – is a one-man public relations triumph for the police, whose reputation gets a daily battering by a thousand self-inflicted wounds. He's an likeable, common-sense copper who sees the humour in the job, the shortcomings of the force bureaucracy, and the right moral course.
Indecent exposure might almost be considered a joke crime, not least among Moore's colleagues and superiors – and talking of a man waving his willy down the High Street could be considered the police equivalent of the A&E nurse talking about embarrassing rectal insertions. But although Moore acknowledges the funny image, he knows that serial flashing is the thin edge of an increasingly unpleasant sexual-assault wedge.
He's deft at making serious points with penetrating, but light wit. Policing made him 'institutionally sarcastic', he admits, but his is a higher form of wit than that, and delivered with lashing of good spirits and an effective slither of self-deprecation. Targets include not just the crooks' often comically bad behaviour, but superintendents focussed on budgets, the failings of the criminal justice system, or modern betes noire like health and safety courses or the corporate double-talk of calling suspects 'customers'. Red tape is the most prolific repeat offender he encounters in the line of duty.
The issues weave seamlessly around his core detective story of trying to track the sex pest who distressed his victims. Some of the evidence he presents here might have been tampered with for comic effect, but it provides a gripping narrative to keep the show moving briskly and intriguingly along. At times it's more storytelling than stand-up, but none the worse for that.
Moore joined the force at 24, and is technically still in it at 50, on a career break that shows no signs of ending. That's a wealth of experience that should provide unique fodder for an equally long career in comedy, especially since an insiders' view of policing will always prove fascinating – especially when told as amusingly as this.
Review date: 6 Aug 2014
Reviewed by: Steve Bennett
Reviewed at: Assembly George Square
Recent Reviews
What do you think?