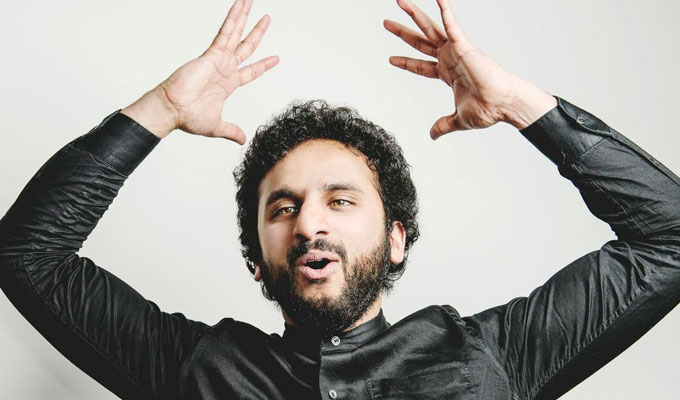 Nish Kumar: Ruminations on the Nature of Subjectivity
Note: This review is from 2014
With his combination of book smarts, righteous passion and sardonic wit, Nish Kumar is the Asian answer to John Oliver.
Fiercely intelligent, he is the voice of liberal common sense, calling to account stupid thinking wherever he may encounter it – even within his own unreliable mind.
Not that he is overtly political, jibes at Nigel Farage's expense notwithstanding. He relays how he has previously been criticised for using his comedy to express how angry he is with white people – but he has the perfect answer for that: he isn't. Well, except maybe Chuck Lorre, creator of Big Bang Theory and Two And A Half Men, affronts to Nish's comic sensibilities.
Stereotypical 'ethnic humour' is also firmly off the agenda for artistic reasons, save for a wonderfully silly parody. Instead he is the unlikely voice of reason, countering #everydayracism with a winning mix of wide-eyed incredulity and biting sarcasm.
Not just this, either, the same witty insight is applied to everything from brutal internet discourse to his own hypocrisy. He saw himself as optimistic, selfless and ego-free – until he started a relationship and his girlfriend hold him he's, in fact, an introverted, over-analytical pessimist. In fact, he's somewhere in between: positive about the world in general (and multiculturalism in particular) but when something fails that ideal, he forensically picks the irritant apart.
The black-clad Kumar is playful and self-effacing with his cleverness, though; a man with all the answers for society but blind to his own failings, except in retrospect. This element adds charm to a sharp commentary that doesn't scrimp on punchlines.
He blasts through the hour with conviction and pace, and the minutes fly past. It's certainly a better, funnier experience than the two-and-a-half episodes of Two And A Half Men you could have watched in the same time.
Review date: 2 Aug 2014
Reviewed by: Steve Bennett
Reviewed at: Pleasance Courtyard
Recent Reviews
What do you think?