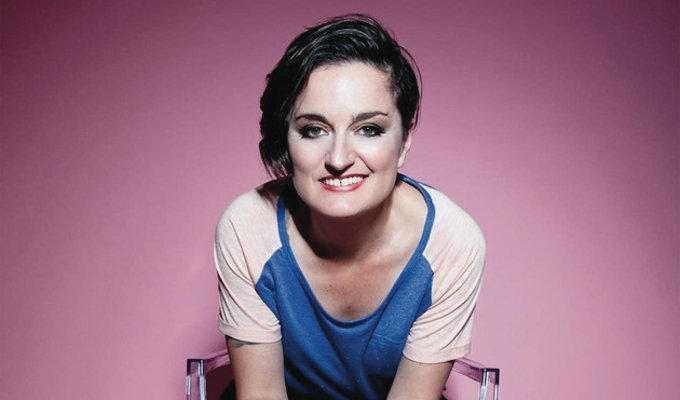 Zoe Lyons: Mustard Cutter
Note: This review is from 2014
Zoe Lyons has put together a joyous show of sparkling stand-up, an hour crammed with anecdote, routines, enactments and observation. She simply delivers far more than most comedians, combining racing speed with fabulous clipped and clear delivery, not a syllable is lost.
And versatile! Without 'doing' characters, she uses voices and facial expressions for a couple of sentences now and then and illustrates her material with lightning portraits of neighbours, friends, bar-staff... Rather like Alan Bennett on speed she has the gift of drawing a character vividly and in few strokes, but is never cartoonish or grotesque.
It's usually levelled as a criticism of a comedian if you mention acting, but here she has total control of the performance and makes you want to see her do more with her skills in a play or TV role, straight or comic, there were glimpses of great empathy, here played for laughs but suggesting hidden depths.
She could extract any segment from this show and use it as pure, belting stand-up on TV, in a club, and yet the whole works beautifully as a snapshot of her life, covering death, dreams, ambitions, friends, family, UKIP, gay marriage and an early acknowledgement of the Scottish Independence thing, which I guess everyone is going to have to do this Fringe, without labouring the point.
Some of the subjects may have come up before (motorway drivers, holiday alcohol purchases) but they feel freshly minted and exuberant, and frankly there is so much else to play with it's a teeny cavil. I was particularly absorbed by her remarks on old women, particularly her mother, restoring these neglected souls to more elevated place in the hierarchy than they are normally accorded. Heart-warming without being sick-making.
She has a marvellously arch sincerity at times that put me in mind of Dame Edna confiding one of her bon mots, no bad thing, but Lyons has her own voice and great panache as a performer. The show was over almost too quickly, probably the only time you'll hear that in Edinburgh.
Review date: 1 Aug 2014
Reviewed by: Julia Chamberlain
Reviewed at: Gilded Balloon Teviot
Recent Reviews
What do you think?