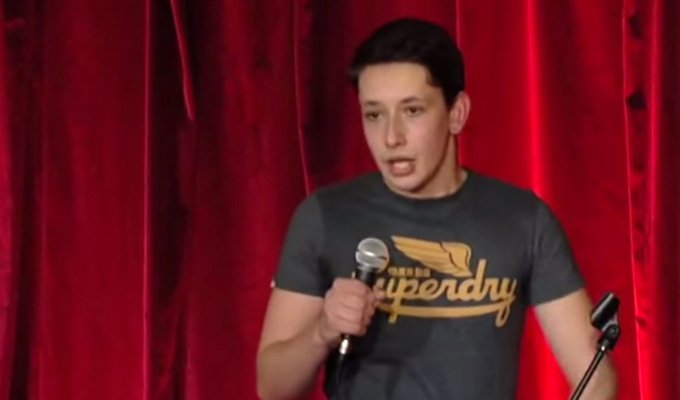 Elliot Steel at Latitude 2014
Note: This review is from 2014
It's a big booking for 17-year-old Elliot Steel, a virtual unknown taking a primetime slot in Latitude's vast comedy tent alongside the likes of Kevin Bridges, Marcus Brigstocke and Jeremy Hardy. Being represented by the same powerful agency as those stars, Off The Kerb, may have been a factor. 'See him now before he fills arena,' the company's website trills with depressing inevitability, not to mention putting a lot of pressure on young shoulders.
If the managers there saw in him the future of comedy, it does look a lot like the present, for there is nothing remarkable about this Croydon youngster's set. He talks about how young he looks, how lad culture is synonymous with being a dickhead, and how his mates call him Gaylord ('I would love to be lord of the gays!') Then there's the awkwardness with girls, and how people react to hearing that he's a comedian by asking: 'Tell us a joke then'.
His treatment of these unexciting topics is ordinary, too; variations on ideas that have been heard hundreds of times before. Mimicking the 'you get me, blood?' accent of his more streetwise South London pals is typical of the cliché. And at the risk of sounding fogeyish, he swears as a prop, artificially trying to inject some attitude in place of genuine from-the-heart passion.
On the credit sited of the ledger Steel has a good rhythm and even if he's not quite at home on such an imposing gig, is slick and confident in his delivery. His treatment of the obligatory 'I got mugged' tale demonstrates nifty storytelling skills too. But it's not enough to stand out fro scores of young acts; he's a derivative comic who hasn't much of interest to say. Maybe a few years in the clubs, or of life experience in general, will fix that, but the fear is he could become a manufactured cookie-cutter comic from the big management stable.
Review date: 21 Jul 2014
Reviewed by: Steve Bennett
Reviewed at: Latitude
Recent Reviews
What do you think?