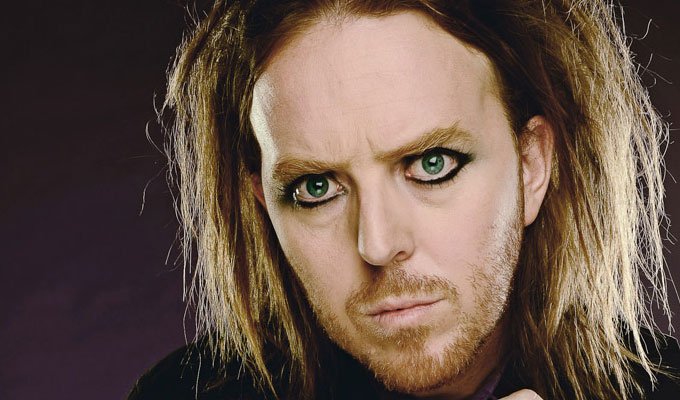 Tim Minchin: British Summertime
Note: This review is from 2014
'Could have done more' is not a sentiment usually associated with Tim Minchin; he of the overblown orchestration and big production numbers.
Yet even though this Hyde Park gig was billed as a Minchin show, he performed just seven songs and finished a full 20 minutes before the strict 10pm curfew - definitely leaving the audience wanting more.
'I hope you weren't expecting new material,' he said at the outset. But the 4,000 enjoying this festival-lite did get an exclusive treat among the old favourites: a poignant, romantic number from an unnamed project yet to see the light of day – understood to be his stage adaptation of Groundhog Day.
The song, about someone living in the future rather than the present, is by his own admission far from his silliest peak, and is summed up in the refrain: 'I know now that I know nothing. I'm here and I'm fine and I'm seeing you for the first time.'
The number took its place in an encore alongside the proven stage hit When I Grow Up, from Matilda. And that followed his main set of comedy hits Rock And Roll Nerd, Prejudice, Cheese, Woody Allen Jesus (the song too controversial for ITV) and Dark Side. No, they are not new, but the adoring crowd cared not... certainly a lot less than Minchin, who had to try to stop fans spoiling the surprise of Prejudice for any new followers - not that there could have been many of those here.
Between tub-thumping songs he commented that he had 'retired' from comedy, and that the one thing better than doing stand-up is not doing stand-up. It would be a shame if that was how he genuinely felt, for this was, while it lasted, an awesome gig - even if fans might rightly feel short-changed about how quickly it was all over.
Much of the chatter as the crowd thronged towards their Tubes home was of the brevity of the gig. But louder still was the talk in praise of Nina Conti, a couple of slots earlier on the bill.
Her sarcastic and reluctant sidekick Monkey, with his weary putdowns undermining her chosen art of ventriloquism, is what she's built her acclaimed career upon, and it really struck a chord here. A large part of this must be down to Conti's skill at still seeming shocked at the things her alter-ego comes out with, so keeping the routine permanently fresh.
In other new tricks, her simian associate has been learning guitar - with genuinely hilarious consequences; while the unwilling volunteer Conti drags up on stage to become a human doll proved another runaway success.
And this was not an easy crowd to win over, outdoors and in pretty much broad daylight.
Even veteran compere Jasper Carrott struggled a bit. He's still slightly off his game, rustily uncertain in his delivery of material that these days revolves around Stannah stairlifts and walk-in baths, even if there are moments worthy of his brilliant peak.
He wasn't helped by the director of the big-screen coverage including lots of cutaways to the audience – which means a girl's well-timed cheeky wink got a laugh to the bemusement of Carrott, his timing thrown off because he was unaware of what was going on behind him.
Even dampened, though, he has a spark. If he gigged hard and sharpened up, he could surely win back the reputation for being a great, pioneering stand-up that he once had. Though now he's made his millions from TV production, perhaps the hunger isn't there.
The first act he introduced, Gina Yashere, might be a triumph of hyperactivity over subtlety – but that was just what was needed to kick-start this unusual gig. Her material is often not particularly original, and never at all delicate, but the energy dispersed proved an ideal appetiser for the evening.
She was followed by the Pajama Men 'who won the Berry award at the Sydney Comedy Festival' said a doubly-confused Carrott. Off-kilter sketch comedy was always going to be a tough sell here, and indeed their routine was a mixed affair. Some mini-scenes intrigued more than entertain; while the 'bad stand-up' shtick was probably a bit too in-jokey for this crowd.
Yet the more physical examples shone, their ultra-inventive horse impersonation for starters; or the South American 'give it to me' bird; or the human marionettes all went down a storm.
After them, Conti, and after her, Milton Jones, with the relentless stream of exquisitely-crafted one-liners we've come to expect from the Mock The Week regular. Some are simple wordplay, but the best evoke images that are beautifully daft with hearty laughs coming from what he's prompted us to imagine. He was a great addition to a great bill that was so fucking rock... at least until 9.40pm when we're all told to go home to bed.
• After the gig, Minchin tweeted that he performed longer than he was booked for: 50 minutes when he had only been contracted to do 35. Good on him; but it seems cynical that this is how little promoters asked him to do...
Review date: 10 Jul 2014
Reviewed by: Steve Bennett
Reviewed at: Hyde Park
Recent Reviews
What do you think?