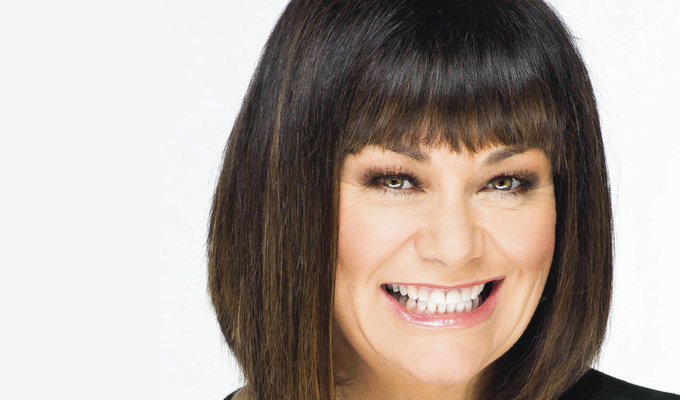 Dawn French: 30 Million Minutes
Note: This review is from 2014
Whatever it takes to make the leap from jobbing entertainer to national treasure, Dawn French has done it with the apparently effortless grace of the prima ballerina she once wanted to be.
Her many fans are drawn from a similar demographic to her – broadly middle-class, broadly middle-aged, caught 'between menopause and dementia' – and they adore her. And after being in their idol's affectionate company for 120 of the 30 million minutes she's lived so far, that bond can only be reinforced, thanks to her honesty, charm and wit. The standing ovation she received in Brighton will surely be repeated every night of the tour.
Drawing heavily on her frank 2008 memoirs Dear Fatty, this show occupies the no-man's-land between stand-up and theatre that is the One Woman Show; yet it is territory 'Moo' French can proudly claim for have conquered. The stories focus on her family, her body and the occasional unpleasant side-effect of fame – seasoning the autobiographical with common-sense social commentary. Her career and her famous chums (and ex-husband) are touched on only tangentially.
She's slightly unlucky that Caitlin Moran got to the best title first, as the titles of the chapters French and director Michael Grandage have chopped the show into are the lees gainly How Do You Be A Woman/Daughter/Wife/Mother – but accurately reflect the arc of her off-screen life, and this monologue, which deftly pendulums between the sublime and the ridiculous.
After an atypically unfocussed preamble, her story begins with childhood recollection rich in rose-tinted nostalgia. French has clearly never forgotten what it's like to roller-skate clumsily down the hallway, dream of David Cassidy, and think purple suede hotpants over American tan tights are the pinnacle of chic. The imagery would be vivid, even without the actual photos from the family album flashed up in sun-bleached hues on the giant screen behind her. But when a tale about the day the Queen Mother visited her family home, thanks her adored father's RAF job, is supported by actual filmed evidence, it lends a comic punch – and an authenticity – to her memory. Illustrated or not, the combination of comforting familiarity and amusing – if only sometimes laugh-out-loud hilarious – anecdotes is irresistibly affectionate.
But when she lays open her deeper feelings and more intimately personal stories the show acquires real heft, particularly in the second half. On the day the phone-hacking trail reaches its tardy conclusion, her story about an intrusive journalist targeting her daughter at the age of nine is a hard-hitting example of the human cost of such sharp practices. The reporter in question is, the usually gregarious French admits, the only person she's ever truly hated – a claim that, like all she says, is very easy to believe.
Medical problems, the 'armour' of self-confidence that makes her content in her supposedly imperfect body, her reaction to the death of close ones, particularly her god-like father who heartbreakingly took his own life, are all addressed frankly and with good grace. Though it's tautly written, directed and delivered, imbuing a slickness which inevitably puts a little distance between performer and audience, the tone is of sharing confidences with a trusted friend, and French shares a easy, natural rapport with an audience with her hero, Eric Morecambe. Through tragedy and triumph, and a couple of stonkingly funny payoffs, we all feel closer to her in the end.
Words like 'empowering' and 'inspirational' could so easily be bandied about here; or even more unkind ones such as 'mawkish' and 'sentimental'. Yet these adjectives would be as inaccurate as they are simplistic. Sure, she gets close to the sort of motivational slogans you could slap on a picture of a cloud and post on Facebook, but her honesty and integrity makes for a far more nuanced picture than that, while still delivering the required emotional pick-me-up at the end of this fascinating and sure-footed journey through her life.
Review date: 26 Jun 2014
Reviewed by: Steve Bennett
Reviewed at: Brighton Theatre Royal
Recent Reviews
What do you think?