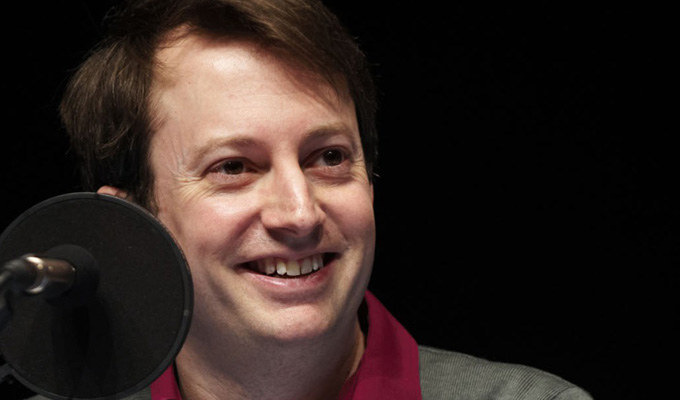 Radio review: Blocked
Note: This review is from 2014
Frankie Boyle has proved too controversial for supposedly edgy late-night TV shows, so it could come as a surprise that his BBC comeback comes via middle-class Radio 4, albeit as a writer rather than a performer.
In its first moments Blocked, set in a regional theatre run by a dysfunctional family, almost sounds like any other radio sitcom; but it's not long before Boyle's harsh sensibilities kick in.
The lead character, Felix, is an irascible washed-up writer who spits out his contempt for humanity in brutal terms. But by casting David Mitchell, the tough sentiments are given – well, not warmth exactly, but at least a way of understanding the frustrations that led to them
Co-written with stand-up and magician Steven Dick, who's often scripted gags for Boyle, the script is dense with gags that don't pull their punches. And although he travails of a struggling theatre might not seem the obvious background for them, Boyle also takes side-swipe at issues that bug him personally, from Third World sweat shops, psychics preying on the vulnerable... or the 'wit' of Ricky Gervais.
Comic Chris Ramsey introduces his character, Felix's internet-obsessed son Chris, by bursting in with the line 'Oh my god Ricky Gervais tweeted something really funny!' 'Oh no he didn't,' Felix replies sardonically.
The show is described as a 'depraved farce', and the second element is in abundance, too, thanks to a plot that involves a lost child, a stray dog and an inspector who calls, from whom all the chaos must me kept. Truly, this is Ray Cooney on Buckfast.
But the script also takes the contrivances of farce to, well, farcical levels:. 'Did I say stray dog?' says Felix, trying to cover up, unconvincingly. 'I meant niece'
The writing is strong in both quality and in potency. At the moment, the episode of Blocked that aired last night is a one-off, but a series would be most welcome.
Review by Steve Bennett
• Click here to listen to the show on iPlayer.
Review date: 6 Jun 2014
Reviewed by: Steve Bennett
Recent Reviews
What do you think?