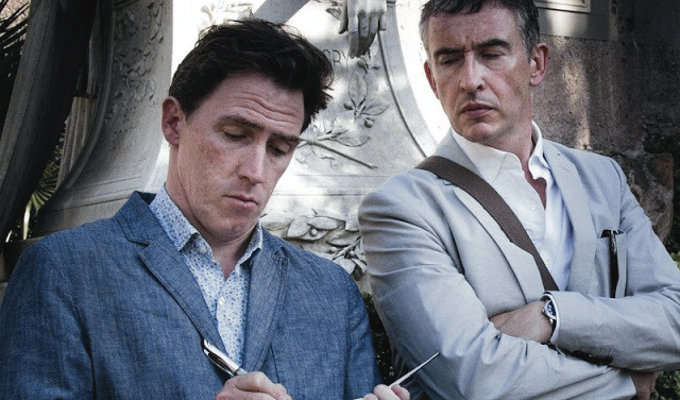 The Trip To Italy
Note: This review is from 2014
Early on in The Trip To Italy, dining talk between Steve Coogan and Rob Brydon turns to difficult second album syndrome. The pair acknowledge the trickiness of reprising a hit like their first gastronomic tour together but quickly move on, the conversation overtaken by Brydon's impression of Al Pacino in The Godfather II.
Like most sequels, this is essentially more of the same but rendered on a larger, more picturesque canvas. If director Michael Winterbottom made the restaurants and scenery of the Lake District and Yorkshire Dales appear compelling in the original, then this time round, following in the footsteps of Lord Byron through stunning Italian landscape and simply gorgeous-looking cuisine, he'll inspire significantly more viewers to follow Coogan and Brydon.
Despite Coogan's initial 'Who?', 'Really?' reticence at Brydon's offer of another all-expenses beano for the Observer, the pair are warmer towards each other: Brydon less desperate to be seen as an equal and Coogan less insecure and irritable. Even the suggestion of Coogan murdering Brydon is conveyed affectionately.
They're just two middle-aged men, wistful about lost commercial endorsements, united in their invisibility to attractive, young Italian women. Mind you, Brydon declares himself 'off the leash' from his wife and Coogan is on 'mid-life hiatus' after his US medical drama is cancelled. He's become teetotal too and there are hints of tension in his relationship with his teenage son.
Incredibly, there's an even greater density of impressions this time. Brydon barely pauses to be himself. And despite Coogan's protestations that they're not The Two Ronnies or Morecambe and Wise, the simple joy of this show remains the mildly competitive edge with which they seek to amuse each other. Surrounded by such culture, refinement and natural Mediterranean beauty, their commitment to inhabiting Terry Wogan or Morrissey is just the right side of boorishness. Meanwhile, Winterbottom ensures that their fellow diners are utterly indifferent to them.
The highlight of this first episode was the much trailed Batman scene with the tear-choking Michael Caines and incomprehensible Christian Bales and Tom Hardys. Yet it's extended beyond the online teasers into a dig at Bale's reputation for preciousness and questioning if Hardy could hold a two by four to Brydon's B&Q voiceovers.
Along with a cannibalism scenario involving Mo Farah and Stephen Hawking (no impression, mercifully) the banter is generally breezy and very funny. The romantic poet allusions are less evident than Italian Job ones and the slipperiness of the two men's public-private personas is touched on only lightly. Still, there's just enough introspection to imply a couple of worthwhile storylines in the future episodes.
What's also apparent is that BBC Two's measured servings of six 30-minute episodes once again feels like the right format to digest The Trip in, rather than as a three-hour film. You can indulge in too much La Dolce Vita in one sitting.
Review date: 4 Apr 2014
Reviewed by: Steve Bennett
Recent Reviews
What do you think?