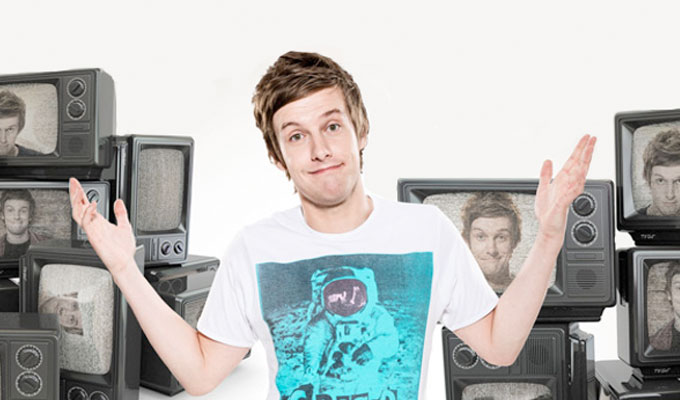 Chris Ramsey: The Most Dangerous Man On Saturday Morning Television
Note: This review is from 2014
The idea that Chris Ramsey could be the most dangerous man anywhere is patently laughable. The effusive 27-year-old man-child is the epitome of effervescent enthusiasm who wants nothing more than to be liked
Yet he attracted some small measure of controversy just over a year ago when he was booted off Sky's Soccer AM for using 'offensive language' on live telly. However even the word in question has a childish naivety that entirely fits his personality: 'bumming'. Frankie Boyle he ain't – even though producers were less than enamoured at the time.
So compelled was Ramsey to get a cheeky laugh, that any filter between brain and mouth was bypassed. That may be a problem for brunchtime family viewing, but it's a positive boon for stand-up – especially when his mental impulses prove pretty dependable when it comes to getting the laughs. 'I just keep my mouth moving and stuff comes out,' is his own assessment of what he does.
He uses this to good effect in the free-flowing banter which both starts his show, and pretty much defines it, his loose conversational style creating the illusion of a two-way dynamic between audience and performer. Whether it's the nature of weekend audiences, or whether his style encouraged it, an air of rambunctious unpredictability fizzed through the Bloomsbury Theatre auditorium occasionally edging into the disruptive.
With any irony completely eluding those who joined in, this reached a peak after he bemoaned the tribalism and triumphalism of those who believe football is greater that life itself. His nonchalance to what he admits is a good game earned a homophobic rebuke of 'gay!' from one corner, which genuinely seemed to rattle Ramsey, while another, missing the point entirely, suggested his dislike was due to his local team of Sunderland begin 'shit'.
These and other interruptions, including a mass front-row toilet break, an attention-seeker wanting him to know it was his mate's birthday, and the phone-checker, given away by her face being illuminated by the screen's revealing glow, were handled playfully
It created a fluid interface between the planned and the improvised, giving a spontaneity to a night that might have otherwise seemed to have rested on the fairly straightforward story of his televisual misdemeanour.
However even on-script Ramsey deftly weaves in material about passive-aggressive tweets and plenty of self-belittling comments about how he acted on the day in question, or even in a tangentially related story of his one and only run-in with Her Majesty's Constabulary. On that self-deprecating angle, a post-script about his ill-fated attempts to replicate James Bond's suave sexual confidence initially seems needlessly tacked on – even a little slow in the telling – but the punchline is licensed to kill.
Such stories about his haplessness endear, buoyed up by the infectiously positive delivery and wide-eyed optimism about the world make for a spirited and fun night. His stock may be rising thanks to his starring role in mate Jason Cook's BBC Two sitcom Hebburn, but it's a live performer he relay shows his mettle.
Review date: 1 Feb 2014
Reviewed by: Steve Bennett
Reviewed at: Bloomsbury Theatre
Recent Reviews
What do you think?