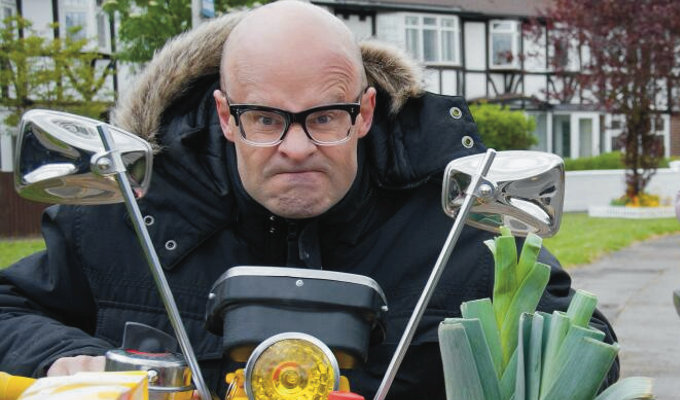 Harry Hill: The Movie
Note: This review is from 2013
It's rarely a good indicator when film distributors don't show their releases to reviewers ahead of release, and the Harry Hill Movie is – sadly –  no exception. For although Hill's style of comedy is so charming and good-natured it's impossible to hate, this big-screen turkey really pushes that goodwill to the limit.
Applying his irreverent silliness to soap operas and reality shows in TV Burp may be one thing, but such larger-than-life surrealism proves way too flimsy a construct on which to build an entire film, which ends up feeling much more like an over-long kids' TV show than a future cult comedy classic.
Hill has always displayed more than a touch of the Beano spirit, and that's on display from the very first scene as he and his Nan, played by Julie Walters, race mobility scooters past houses painted in the gaudy primary colours of a comic strip. The plot and characters are similarly cartoonish and two-dimensional. Matt Lucas hams it up as Hill's estranged evil brother Otto, clad in a photographic negative of the comic's distinctive suit. 'Raised by a family of alsatians near Kettering', he now has designs on kidnapping Hill's pet hamster, Abu (geddit?), which he masterminds from his evil lair.
Tasked with this are the incompetent henchmen Simon Bird – playing against type, though he can never escape the nerdiness – and Guillaume Delaunay. They wear a variety of preposterous disguises from the dressing-up box as they chase our hero to Blackpool.
Yet they are perpetually outfoxed by Abu, a puppet voiced by Johnny Vegas, in sequences that might bring to mind Caddyshack, but never match its humour. And when radiation makes Abu into a 50ft monster terrorising a town with his laser-eyers, older viewers will be reminded of the Goodies' Kitten Kong. And on this budget, special effects haven't come on much in 40 years. Not that older viewers are the target of a film which seems aimed at those still in primary school.
Hill wrote the script with with Jon Foster and James Lamont, whose main credits are the Cartoon Network series The Amazing World Of Gumball. Like an animation, it is very much a series of sketches; and sometimes nicely inventive ones too – from a dog-based Jacksons tribute group called the Daschund Five to the Magic Numbers singing about the bed-and-breakfast they run.
But it doesn't amount to anything, as too many ideas that might look zany and original on paper actually seeming increasingly futile, even desperate. Case in point is when midway through their escapades, Hill and his Nan stumble across the shell-people (led by The Boosh's Julian Barratt, no stranger to odd costumes, as Conch) just for the sake of a subplot, no mater how tenuous. Song-and-dance numbers are grafted on gratuitously, too, yet add nothing – not even the boost in energy they were presumably designed for.
It might seem foolish to look for sense in something which makes no claims to be anything other than daft, absurd balderdash. But while there's nothing wrong with mucking about, 90 minutes of it with no underpinning, and too little funny dialogue, is nothing but a big heap of 'meh'. Such a shame that this is the celluloid legacy of comic capable of so much brilliance.
Review date: 20 Dec 2013
Reviewed by: Steve Bennett
Recent Reviews
What do you think?