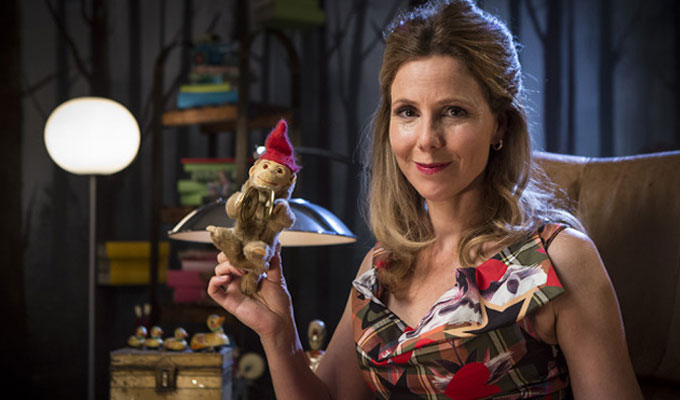 Crackanory
Note: This review is from 2013
If you want to create a buzz on Twitter, write about Twitter. Or Justin Bieber.
That seemed to be the thinking behind the first tall tale in Crackanory, Dave's new Jackanory-inspired 'storytime for adults' show, in which comedy favourites read 'beautifully funny tales about life in the 21st century'.
In the opener, Jack Dee deadpanned his way through the case of Twitter addict Dazpants80, who found himself at the centre of a brief but intense online storm after posting a mildly disparaging comment about moody teen pop sensation 'Joaquin Blieber', which resulted in him barricaded in his local pub.
But the yarn, from Nico Tatarowicz, seemed rather flat; a straightforward sequence of events with a feeble twist, little dramatic tension or any particular feeling our poor protagonist was submersed in a world gone mad. The real-life case of Paul Chambers, who endured a proper legal nightmare are the hands of a system who couldn't tell the difference between a frustrated joke tweet about blowing Robin Hood airport 'sky high' and a genuine Al Qaeda threat, offered a lot more drama than a bland story that wasn't involving enough to suspend disbelief in the unlikely premise.
Director Richie Pengelley and producer Arn Widdowson – once Ben and Arn – did a sterling job of making the show look good, however, with the tale acted out by John Hopkins and a nicely bewildered Steve Oram, plus some stylish animation to cover the fact that a digital channel's budget wouldn't stretch to a real angry mob.
The second tale, written by Yonderland and Mitchell and Webb scribe Toby Davies, was far more involving, capturing some of the spirit of bygone storytelling shows such as The Twilight Zone or Tales Of The Unexpected, but with wry comic overtones.
Sally Phillips employed her delightfully impish sense of dark humour to recounting the twisted tale of Peebee, an eccentric but much-loved toy-maker in the best traditions of the children's stories Crackanory is supposedly inspired by. With cartoonishly ghoulish sensibilities and a deft turn of phrase and thought (such as the hound named Rufus), this was a thoroughly entertaining contribution, strengthened by ignoring the 21st-century brief and harking back to a simpler time.
A show such as Crackanory is dependent on the varied voices of individual writers even more than its roster of big-name performers, so almost inevitably some tales will appeal more than others. The opener showed both what can be achieved from a fertile imagination, and the disappointing product of a more pedestrian approach.
Review date: 14 Nov 2013
Reviewed by: Steve Bennett
Recent Reviews
What do you think?