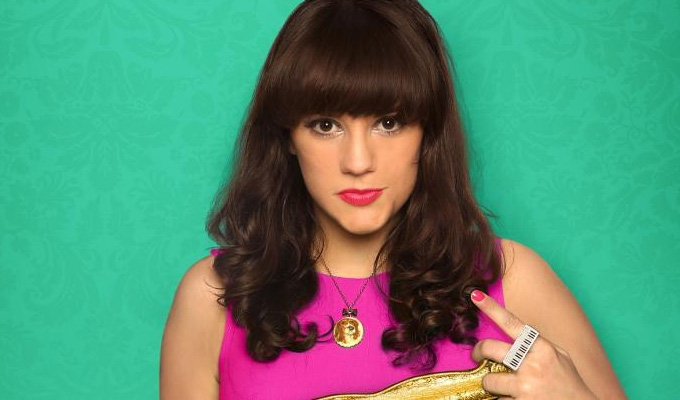 Vikki Stone: Definitely
Note: This review is from 2013
Reviewers need to beware of criticising musical comedians. Phil Daoust was immortalised in song after taking a pop at Tim Minchin early in his career, and Vikki Stone has penned a number answering back the journalist who accused her of merely peddling filth. In her riposte, Stone sees herself as the DH Lawrence to the prudish, old-fashioned censor.
Full of passionate, bitter indignity, it's lyrically the best song in this tour, just as it was the best song in her 2012 Fringe show, even if you don't entirely agree with her accusations that her detractor was simply indulging in an 'intellectual whine' and taking her material 'out of context'. For context, this number comes after a song about being rogered by a man with a painfully large penis. It might be earthy and bawdy, but it's also just a bit easy...
As well as sex, Stone has penchant for singing about mid-level celebrities. After striking viral paydirt with her paean to Phillip Schofield, she followed it up with similar tributes to Dragons' Den's Hilary Devey last year, and Brian Cox and Claire Balding this. Naturally her intentions towards the heart-throb particle physicist are entirely lustful, as she lasciviously growls about her wish for him to 'give my wormhole a right good battering' – and other science-based single entendres. Matter may exhibit an ambiguous duality, but her material doesn't. Other summits of sophistication include calling Piers Morgan a cunt (guaranteed a cheer, that) and chanting a refrain about her camel toe-oh-oh.
This comes towards the end of her opening song, which displays her other talent, aside from dirtiness, and that's the big production number played for laughs and on a budget. Clomping around on towering, glittery platform stilettos, she twerks, skateboards and otherwise showboats her way thought the attention-grabbing track, after jollying up the audience with dodgy T-shirts, giant foam hands and a home-made banner to make this studio theatre look like an X Factor audition.
Talent shows form the through-line for Definitely: the instant fame, the background sob stories, the fleeting nature of fame, and her tale of a chance, drunken encounter with Simon Cowell. Stone herself witnesses first-hand the fickleness of celebrity, when after pioneering the internet trend of dog beards, soon found herself footnote in that meme's history.
This is all well-structured, taking in diversions into more original territory than Cowell's vacuous shiny-floor TV output - most notably a lyrical tricksy power ballad about a pretentious Will Self quote that requires all her Royal Academy Of Music training to pull off.
She tells her tale with a theatrical flourish, rather than the naturalistic approach of a stand-up, but whatever tall tales lead her through the hour, it's all comes to a satisfying climax with an impressive showstopper, pulling together more strands of the show than you might expect, and packing plenty of impact. It's a triumph of entertaining showwomanship, even if the comedy has its highs and lows.
Review date: 8 Nov 2013
Reviewed by: Steve Bennett
Reviewed at: Kings Place
Recent Reviews
What do you think?