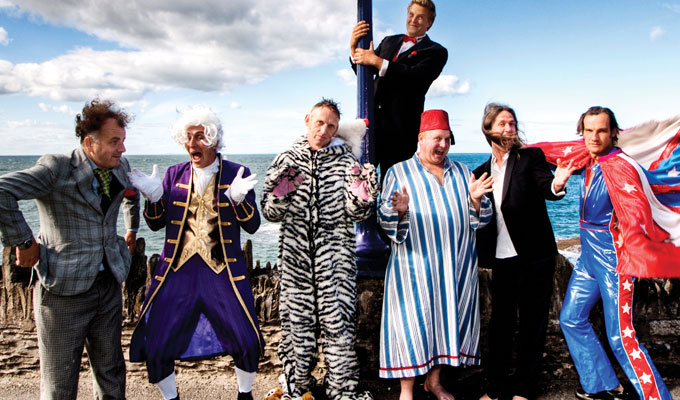 Slightly Fat Features
Note: This review is from 2013
If anyone says good old family-friendly variety is dead, just point them in the direction of Slightly Fat Features. Forget the up-and-comers, these seven middle-aged men have produced one of the most joyous, inventive shows on the Fringe, that's a pure blast from start to finish.
There's juggling, escapology, music, magic, dancing, clowning and prop work – a list of hard-won skills that are nevertheless unlikely to have you googling the ticket link. Because don't they sound, well, dated?
Yet these tight-knit troupe of expert vaudevillians give old tricks brilliant new twists, then perform them with an acute sense of Knockabout comedy that's impossible to resist. To a man they are expert physical comics, so full of giddy ebullience that it's infectious. There's no irony here; no attempt to make their craft into high art (as one jibe at Cirque Du Soleil makes clear) – just mates dicking about for our pleasure.
There's a touch of the Tommy Cooper in the stick-cup-ball magic trick, which is just about the most traditional thing they do amid the mock cling-film escape or life-sized version of Find The Lady. Heck, they've even got a new way of doing a drum roll, demonstrating they have looked at every second of their act to see if they can't wring another laugh out of it.
We return to the world of magic, for the showy Vegas sensation Wayne Marvell, a near showstopper which turns into a brilliantly over-the-top slapstick extravaganza. Elsewhere, host and producer Goronwy Thom, a bundle of positive energy, proves himself a devilish juggler, who carries his talent lightly. Clown among clowns is Herbie Treehead, in no need of a silly wig as his electric-shock hair puts Charlie Chuck to shame, who makes for the most playful of jesters, rallying the crowd in an uplifting singalong. It's not all big and bold. John Hicks conducts an intricate stunt on a tiny scale, every precise movement of the set-up mined for laughs by the most delicate of physical expressions. But it is, admittedly, mostly big and bold.
Forget seeking what's cool or the next big thing – when it comes to pure and simple entertainment, this effervescent septet are the real deal.
Review date: 19 Aug 2013
Reviewed by: Steve Bennett
Recent Reviews
What do you think?