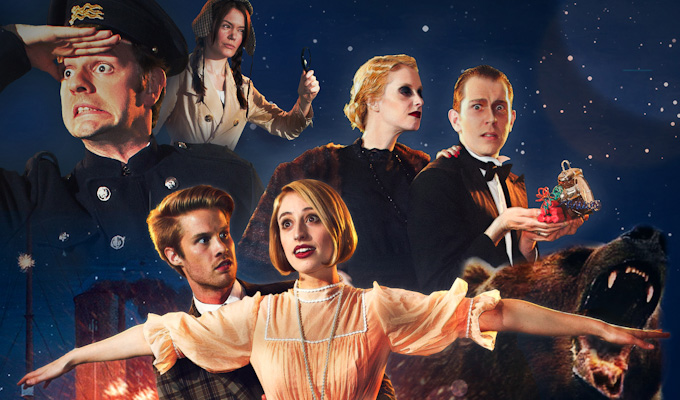 Death Ship 666
Note: This review is from 2013
Now here's a show that proves free venues can cope with productions more demanding than one person with a microphone. Death Ship 666 is an ambitious and frantic Titanic parody in which the talented cast of six attempt to create their own filmic blockbuster on a shoestring.
Each of the actors triples, quadruples, maybe quintruples up on roles, scurrying on and off-stage for the speedy costume changes needed to convey this multi-stranded narrative. The unfortunately named Death Ship 666 is about to set sail on her maiden voyage, despite The Architect's insistence that it's not finished, while boasting just two-and-a-half lifeboats.
Sabotage is afoot, too. The evil, aristocratic investors plan to scupper the vessel to claim the insurance, while evil ship electrician John De Vil Crapwirer, suffering a serious case of nominative determinism, plots his own catastrophe. And then there are the hordes of angry bears to deal with...
So the scene is set for an hour of hyper-energetic high jinx, smashing Hollywood spoofs, inventive stagecraft and skilful comic-book characterisation in to one tight package with an irrepressible verve that belies the 10.45am start time. They certainly go overboard on the action.
The script doesn't pack in the one-liners like the Naked Gun films they are trying to emulate – which is, perhaps, something that could be added. But it succeeds in conveying inventive ideas in the story, the characters, and the staging, such as the vast chasm our heroes had to traverse after the vessel capsized. And the moment the show takes a detour into Les Mis territory is a magnificent piece of unexpected parody.
The characters, though broad archetypes, are given enough credibility that you quickly forget it's the same guy in a different hat. Of course it's over-acted, but heightened melodrama is the only appropriate tone; while the exuberant cast – Carrie Marx, Harrie Hayes, Matt Penman, Lydia Hourihan, Andy Byron and Michael Clarkson (who also directed and co-wrote) – work as a well-oiled machine.
While Death Ship 666 is not in the league of the farcical stage version of The 39 Steps, which has been running in the West End for so long, it's probably not more than a couple of rewrites and a decent budget away.
Review date: 19 Aug 2013
Reviewed by: Steve Bennett
Recent Reviews
What do you think?