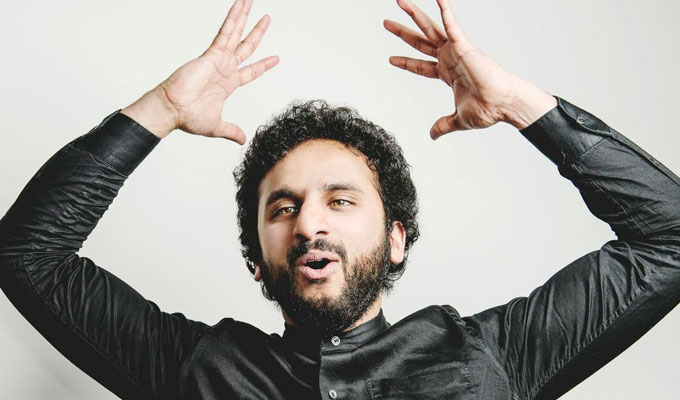 Nish Kumar is a Comedian
Note: This review is from 2013
Ah, comics, they're all me, me... unless you're Nish Kumar, when it's all meme.
That's because the picture he used for his Edinburgh debut last year became a viral phenomenon as the internet meme 'Confused Muslim'. It spread around the web, with users adding their own captions – not always politically correct – as to what this Muslim might be confused about.
In fact, he was mainly baffled by 1) how the picture got to be used in such a way, 2) how he came to be described as a Muslim, even though he isn't and 3) precisely why he felt offended by this unwanted attention.
Thus follows an hour of smart comedy about race, identity, the internet and the culture of being offended, all tied to these images and some relevant personal anecdotes, such as being mistaken for another British-Asian, the journalist Sarfraz Manzoor, by one particularly adamant festival-goer.
Kumar is a witty, canny stand-up, delivering comic observations from the head, if not the heart. It's a long-standing trait, as he boasts about attaining excellent A-level results at the expense of getting to know girls, blooming later into romance with a current girlfriend he has to insist isn't imaginary.
But while he's an intellectual alpha, he becomes a low-status comic because of the idiotic way people often treat him, especially in comedy clubs, where he admits a struggle to convey subtleties to drunks. The internet is even worse. 'Nuance is being apocalypsed,' he succinctly observes, thanks to a world in which everything is liked or disliked, with no space for anything in between.
Kumar makes casual racism entertaining, from the schoolteacher who couldn't be bothered to make a decent stab at his friend Jyoti's name to clumsy impressions of Bollywood films. He's not offended, not really, but rather amused by how stupid and insensitive some people can be.
Yet while this hour scoots along with amiable concern at such situations; essentially it's another batch of self-deprecating first-hand stories in a festival awash with them. The race angle is a clear point of difference, and Kumar skilfully blends them into a narrative argument – but for all his undeniable technical skill, he keeps an emotional arm's length. And that soul is the difference between a good comic, which he undoubtedly is, and a great one.
Review date: 2 Aug 2013
Reviewed by: Steve Bennett
Recent Reviews
What do you think?