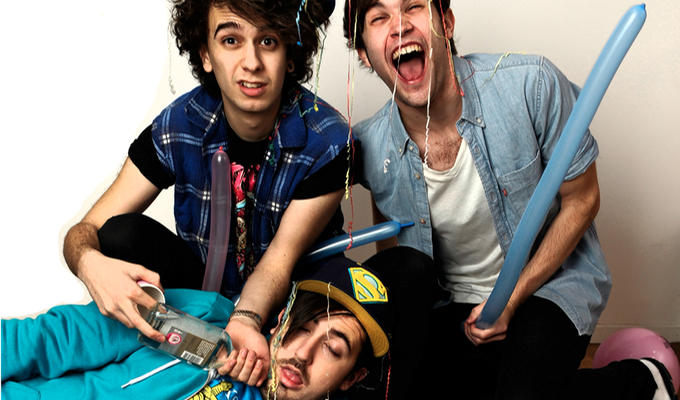 Amp'd 2013
Note: This review is from 2013
It looks like the Just For Laughs festival has as much as given up on its musical comedy showcase Amp'd. A couple of years ago, the show was televised from one of the main festival venues, and featured the likes of Tim Minchin, Weird Al Yankovik, Bo Burnham and Reggie Watts.
Today it's a grimy fringe venue, at midnight, farmed off to the 'Off-JFL' wasteland for the die-hard comedy-goers only. There are only three acts on the bill, and an audience of fewer than 50.
Opener Sean Cullen certainly deserves better. The former Juice Pig has had his own TV and radio series and played Max Bialystock in the Canadian production of The Producers. Here the people at the back of the room hold him in such disrespect they can't bring themselves to shut up and let the rest of us enjoy the show – and are so self-centred and thick-skinned they ignore his barbed comments at their lack of consideration. Pricks.
But even if his warm, if rather vague, patter was interrupted, Cullen has a Broadway-quality singing voice and belted out his agriculture-based love song and the ever-mysterious Cacheevo – both from his 2008 album I Am A Human Man – to great delight. These are subtly odd tracks, rather than raucous laugh-out-loud anthems, but affectionately wry is a good appetiser for a show.
Sadly, the main course was utterly bland; the dreary duo of Zabruso, painfully performing for half an hour without ever getting close to a joke. Bianca Caruso and Jen Zaborowski are good singers, weak actors and insipid writers, who base their shtick on the all-too-believable idea that this is a performance they usually do in their front room.
In stilted, soporific dialogue, so clearly scripted yet without the benefit of editing, the pair talk through their relationship woes – one wondering if hers is stuck in the rut; the other freshly dumped – occasionally breaking off for a laugh-free song. Most baffling was when they brought a guest comedian, Ryan Hamilton, on stage to get some advice – and none of them seemed to know what was going on. Hilarity certainly wasn't... a bit about Disney Princesses being unrealistic role models was the closest they came to a premise for comedy, but the second part of the equation was definitely missing.
After the interval came Britain's Midnight Beast – the hip-hop trip freshly recommissioned for a new series on E4 – who injected some much-needed energy into the late-night gig.
Their songs aren't brilliant, and there's a Al Murray-style blurring of the line as to whether they are parodying a laddish youth culture or celebrating it, such as singing 'must be a lesbian' about a girl who knocked back their clumsy advances. There's another song about Harry Potter and his 'wand' and their Ke$ha parody which initially propelled them to internet fame.
The music's catchy and enthusiastic and Stefan Abingdon, Dru Wakely and Ashley Horn's choreography tight and attention-grabbing. In fact, it's played rather too straight – this could almost be a genuine gig from a boisterous crew, especially as the lyrics don't have enough invention (or indeed clarity) to be hilarious. But it is undemanding fun for 1am...
Review date: 27 Jul 2013
Reviewed by: Steve Bennett
Reviewed at:
Recent Reviews
What do you think?