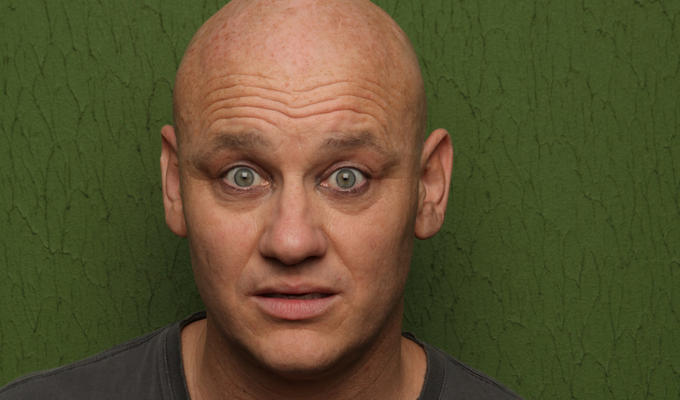 Terry Alderton at Latitude 2013
Note: This review is from 2013
'I can't do comedy at 11.30 in the morning,' complains Terry Alderton.  'I can't do this when I can see you. I need darkness.'
Well, the evidence is that he CAN do comedy so early; while he also brings plenty if darkness of his own to the table. For Alderton plays with madness and menace in a strange, inventive set that flutters between weird performance art and crowd-pleasing pop-culture mash-ups. He also offers a different experience each time, not just for his ad-libbing around the circumstances of the gig, but also because he's forever trying out new ideas, some of which work, some of which don't, and a lot of which are somewhere int between. But watching the process play out is fascinating.
Snippets of Bollywood, drum and bass, and Latitude headliners Kraftwerk randomly punctuate the routine which come, like so many of his abrupt detours, out of nowhere. He uses his considerable vocal talents to mock 'yoot' speech, Scousers and the sectarian Northern Irish. Sometimes this is easy pickings (or in the case of his midget impression, in dubious taste), but, he does it well – plus he needs some recognisable comedy routines to occasionally anchor his bizarre brain dump in something the audience will find reassuringly more familiar.
When he gives his mind free rein, the result can be disconcerting, whether its playing up his intimidating look (emphasised with dramatic eyeliner), vocalising the voices in his head, talking to invisible sidekicks or wistfully pondering: 'The whole world is lost' with all the foreboding of a serial killer with a manifesto.
Certainly the Latitude audience seem to have concern for his apparently fragile mental state, which is so hard to fathom that when he lies in his back and conducts a conversation between his feet that then rock out to Nirvana, it actually seems normal.
But Alderton is far from normal: he's doing groundbreaking things with the form of comedy that no one normal would ever think of.
Review date: 22 Jul 2013
Reviewed by: Steve Bennett
Reviewed at: Latitude
What do you think?