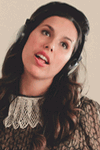 Choir Girl
Note: This review is from 2013
'Nobody stands out in a choir.' That's the refrain of writer-performer Sarah Collins's dark-yet-affectionate monologue about not fitting in - whether in society or a community singing group.
She, and indeed the apparently winsome character she plays, Susan, has a beautiful alto voice. But 'a good singer does not a chorister make' she is told; you have to be a team player.
That is something Susan most definitely is not, for behind that awkwardly mild-mannered exterior beats a deludedly ambitious heart, determined to elbow aside the shallow 'kissie-kissies' of the group to become its star, and seduce the accompanist, Greg, even though she is woefully ill-equipped in matters romantic.
Choir Girl is firmly aimed at those who know first-hand the tribulations of the car-sharing arrangements, slow-boiling tea urns and petty suburban politics of the world Collins describes. In an out-of-character postscript, she confesses to having emailed every choir in Melbourne to drum up business... and it's worked, both in terms of securing a full house, and getting plenty of laughs of recognition from her well-observed script. For those in choirs, the tiny details elevate the show from a sweetly funny play to a piece that resonates strongly with personal experience.
However, the show's biggest selling point is the 14-piece choir that acts as a Greek chorus to Susan's thoughts and emotions, adding a theatricality and scale you don't get at many comedy festival offerings. With their emotionless faces, they represent the hive Susan both wants and dreads being part of... but more crucially they provide melodic interpretations of everything from Britney Spears to George Benson.
An hour of their peculiar cover versions would be entertainment enough, but here they are an extra dimension of a convincing, surprisingly touching character portrait, which she performs with intimacy and warmth. It's not a laugh riot, but a witty, affectionately realised theatrical piece, striking a chord (no pun intended) with anyone who's been in a similar situation.
Review date: 9 Apr 2013
Reviewed by: Steve Bennett
Reviewed at: Melbourne International Comedy Festival
Recent Reviews
What do you think?