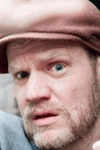 Nicholas J Johnson: Today Tonight, Tomorrow The World
Note: This review is from 2013
During his show, 'Australia's honest conman' Nicholas J Johnson describes the old 'pig in a poke' scam, when they buyer thinks he's brought a prime bit of pork, but when he gets back and opens the sack, he realises he hasn't got quite what he thought he'd been sold.
Johnson's festival show is pretty similar. It's entertaining and well told... and only after you've walked out the room do you suspect it might not be the fantastic story that you thought you'd signed up for.
It all hinges on his appearances on Today, Tonight – which he rightly mocks for its shamelessly tabloid approach to grabbing ratings at any cost. However, that that didn't stop him from taking $2,000 a pop for giving the show what it wanted: scare stories – with hidden-camera demonstrations – about how easy it is to be conned by street hawkers, PIN-stealing crooks, or card-sharps.
As a self-confessed trickser – even one who uses his powers for good - Johnson has all the patter you'd expect: he's engaging, credible and warm as he describes the games Channel 7's producers want their guests to play. And as a professional rentaquote on matters of deception, he soon overcame his reluctance and became a regular, and popular, feature of the show... until his conscience got the better of him.
There are few revelations here; especially the arrogance of the executive who first approached him to be on the show in 2006 with a phone call pompously asking: 'How would you like to be a star of American TV?' The fact that magicians are born from teenage social isolation is less of a surprise.
There aren't many jokes, though, and when they do come, they stand out. It's more of an extended, entertaining anecdote, with a nice twist in a tale. But however charmingly told, and despite Johnson's best efforts to give it extra dimensions, the story just doesn't have enough substance to justify an hour-long show.
Review date: 8 Apr 2013
Reviewed by: Steve Bennett
Reviewed at: Melbourne International Comedy Festival
Recent Reviews
What do you think?