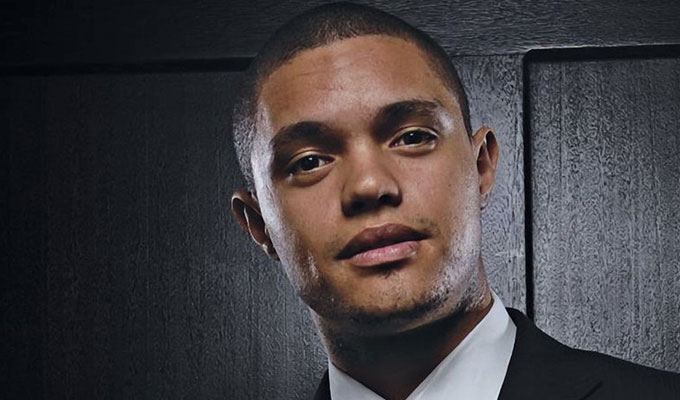 Trevor Noah: The Racist
Note: This review is from 2012
The Racist is going to get Eddie Izzard rave reviews – and he's not even in it. But he has helped make it happen, bringing over to Edinburgh one of South Africa's most exciting stand-ups as part of his vision of a more international comedy circuit.
Trevor Noah is a fascinating and funny new voice on the nature of race, thanks to his unique perspective on the world. He was born in the apartheid era to a black mum and a white Swiss father – even though such relationships were illegal at  the time. The racial pecking order was so instilled in society that his own maternal grandfather called him 'master', even if it was tongue-in-cheek.
There are the inevitable lines about his twin heritage, but it's true he's inherited both the ballsy approach of his mother and the bone-dry sensibilities of his father. His best routines are not afraid to raise interesting points on contentious topics, but he tells them in a soft way, which makes them as thoughtful as they are funny.
The show is mainly about his – and other people's – identity. He was drawn to America because that's where the black people he wanted to be liked lived (and he does a brilliant impression of terrible Def Comedy Jam comics screeching about various 'crazy-assed shiiiit' observations), while many black Americans see Africa as some quasi-mythical spiritual homeland.
It's in the States, where Noah's strongest routines are set. Simple descriptions of people approaching him in the street are made brilliantly funny by spot-on re-enactments, while he raises valid points about the categorisations of African-American and other hyphenates – not to mention how being half-black seems to be a hell of a lot more important part of his make-up, as far as other people are concerned, than being half-white.
None of this is serious as it might sound written down; Noah's playful with his comedy and raises this as quirky or ridiculous behaviour that ought to be laughed at, rather than pushing any great message or agenda. Nor is it all about his own race; he also messes about the Scottish, by way of icebreaker, and takes on the Japanese accent without being offensive, though this is not the strongest section, despite being his closer. Heck, he even does a gag referencing the Holocaust within the first five minutes, and even that manages not to cause consternation.
It's all intelligent, classy and savvily-observed comedy from a warm and genuine performer – a fine way to say 'Sawubona!' to the Fringe. The only slight anticlimax is that he closes his long set in the American way – simply by ending a routine, saying 'thank you Edinburgh, you've been great' and leaving – as opposed to the way British festival-goers have come to expect; of having a conclusive segment that the whole hour builds towards.
Review date: 7 Aug 2012
Reviewed by: Steve Bennett
Reviewed at: Pleasance Courtyard
Recent Reviews
What do you think?