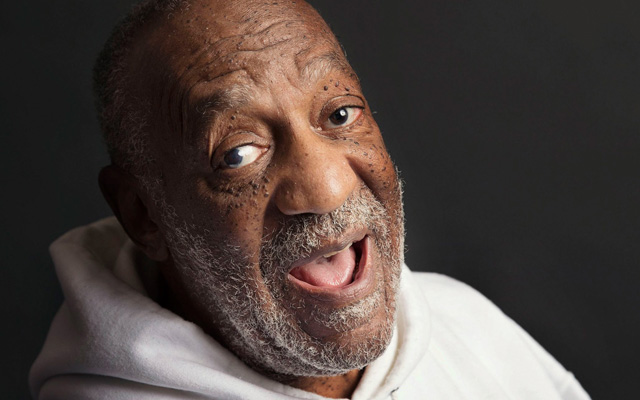 Bill Cosby – Original Review
Note: This review is from 2008
Bill Cosby
. His worldweary demeanour has been etched by 69 years of browbeating, disappointment and subjugation. His eyelids are heavy, his brow furrowed, the cropped hair now ivory white as the disease called life takes its toll.
Sat wearily upon a chair, he hunches forward, one hand resting on his knee, the other gesticulating for emphasis. He carries the air of a respected elder, sagely sharing the wisdom of his years to a favourite nephew from a country porch, occasionally gazing thoughtfully into the middle-distance of the prairie that surrounds them.
But instead, it the thousands of us gathered in Montreal's Place Des Artes he is confiding in. His brilliant trick is to make such an impersonal show feel just as frank and intimate as any avuncular backyard chat.
Despite the huge amount of love for him that rolls in rapturous waves as he emerges on to the stag, Cosby seems to get off to a shaky start. First he's bugged by a microphone that echoes too much for his liking, and as he reminisces, his train of thought is not always clear. He appears to be struggling to recall links and anecdotes, staring into space until they come back to him. But make no mistake, it's just a cunning decoy. His timing, his delivery, his subtle facial expressions – they are all as pin-sharp as ever, and skilfully deployed here to devastating effect.
Cosby's reputation can't hope to capture the thrill of seeing him live. He's generally thought of as the man who played it safe – a man who started his career by pandering to white audiences in a socially segregated America, then made his millions from slick but cosy sitcoms, and is still known for espousing clean-living family values and never resorting to bad language.
On the face of it, his material is also unchallenging, the bulk of it one long, digressive think-piece, covering the trials and tribulations he's suffered in 42 years of marriage: the motiveless rows, the late-night interrogations, his wife's infallible memory for every wrong he's ever uttered. He no longer has a mind of his own, as the woman he calls Mrs Crosby arranges his food, his clothes, his social diary. In her absence from the family house, he attempts small acts of defiance, taking great succour from his petty insurrections.
We might call him Mr Pitiful, forgetting the charmed millionaire life he actually lives. With the aid of evocative scene-setting tale of his wedding day in his ill-paid past, he easily he convinces the audience that he's one of us. And, in all this time since he walked down the aisle, he's come to know all about women – but he doesn't pretend to understand them.
In essence, the topic of adapting to living with a partner is the grist of a hundred bog-standard relationship comics, who play it safe with assumed universal truths. But we're in the hands of a master here, and you can forget it.
His tales may be easy to identify with, but their joy is that they are so personal to him. His put-upon point of view emerges naturally and inescapably from the stories. Rather than starting from a given attitude and regurgitating part-truths to fit them, he starts from real life and works back. Honesty is the best policy, and one that pays great dividends.
Add to that Cosby's faultlessly nuanced performance that skilfully manipulates the audience without them ever knowing. The subtlest movements, magnified a thousand times in intense close-up on two giant screens suspended above the stages, add detail and unspoken illustration to his every sentence. As he bemoans his henpecked life, for instance, he slyly glances over his shoulder, as if fearful of an unseen wife lurking in the wings. It makes us feel as if he's betraying a confidence to us, his trusted friends. The bond between comic and audience is strengthened.
He becomes a confused child strapped into their baffling electronic chair; he evocatively recreates a circle of aging men discussing their various ailments and medications; and in a virtuoso performance retells a hilarious anecdote about his visiting daughter toilet training his granddaughter, building chuckle upon chuckle until he presses just the right trigger, causing the theatre to erupt in an explosion of climactic laughter. No one else can come close to his delicate control of an audience's emotions.
To close his two-hour, non-stop set (the first of two, back-to-back), Cosby reprises a favourite story of a typical visit to a dentist, from the anaesthetic that renders speech impossible to the gruesome implements of the trade. As he re-enacts his slurred conversations and terrified reactions from the chair, every line gets a rich, unanimous laugh. It's flawless brilliance, on a topic that must have occurred to almost every other comic who's ever performed. Yet this quiet, well-mannered pensioner nails it like no one else ever has – or possibly ever could. It's surely time for a reappraisal of his safe image to reflect his unrivalled skills as a live performer.
Reviewed by: Steve Bennett
Montreal, July 2006
Review date: 1 Jan 2008
Reviewed by: Steve Bennett
Age becomes
Recent Reviews
What do you think?