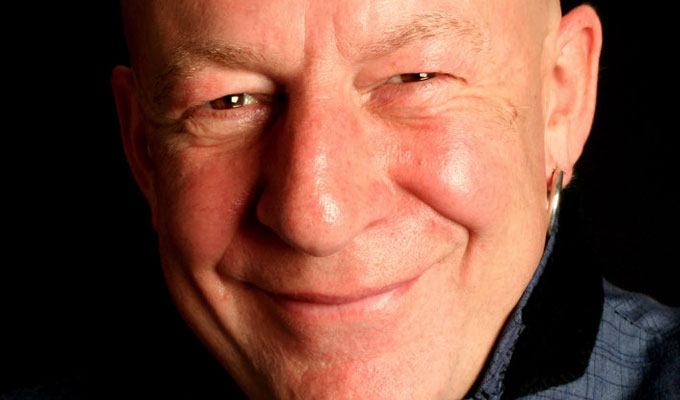 Jeff Innocent – Original Review
Note: This review is from 2006
Jeff Innocent
must be the most unlikely.
He's as far from the Guardian-reading, sandal-wearing hippy stereotype as you could hope to get – a reconstituted East End geezer complete with regulation shaved head and no-nonsense cockney bluff.
By his own admission, he could pass for a bouncer, but for the vividly colourful outsized traditional Kenyan shirt he wears, a symbol of his newfound global awareness – and the source of instant hilarity among audiences who bubble with incredulous chatter at the unlikely image presented to them.
All it takes is one quick, self-deprecating line and he's hooked us. For despite the garish get-up and woolly liberal holistic viewpoint, there's no disguising the fact that Innocent is one rapier-sharp stand-up.
His organic, fair trade, environmentally aware stance may be heartfelt, but in practice it is little more than a fine peg on which to hang all manner of contemporary issues. The 'carbon offset' idea of planting trees to compensate for polluting journeys is purloined to inspired effect in his terrific 'ethical offset' to audience insults, and his new lifestyle lends itself to great material about everything from natural disasters to the angst of doing the right thing.
But he's not constrained by the eco-friendly attitude, ad will riff on such issues as terrorism and its media coverage with the best of them, saying what many of us have thought, but couldn't hope to state to eloquently, passionately and hilariously.
His strength is not his social viewpoint, but his well-practised skills as a superior stand-up of many years standing. He commands the room, hits strong gags with confidence and style and has the audience bending to his every whim.
In short, he's one funny man – whatever the environment.
Review date: 15 Sep 2006
Reviewed by: Steve Bennett
As evangelists for the ethical, eco-friendly movement go,
Recent Reviews
What do you think?