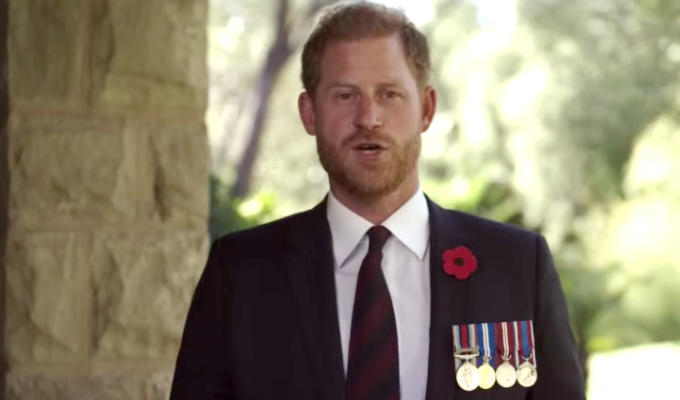 Prince Harry makes his 'stand-up debut'
Prince Harry has performed what he called his stand-up debut at the New York Comedy Festival.
The Duke of Sussex sent a video message to the Stand Up For Heroes fundraising gig on Monday night, starting with a gags about being ginger and a sacrcastic comment about never being under scrutiny.
However following an off-screen intervention – presumably from Meghan – he curtails the jokes to deliver a sincere message about the charity cause behind the gig.
The Prince was invited to take part by Bob Woodruff, a TV journalist who was injured covering the Iraq war and subsequently set up a major fundraising operation for wounded US troops.
Harry opened his message by saying: 'Obviously, I was deeply honoured when Bob asked me to debut my stand-up act with you all tonight. I was so relieved to be invited back. But then I started to question whether his invite for me to actually do stand up was in fact, his idea of a joke.
'Either way, due to the shockingly low representation of gingers last year and out of respect for my fellow endangered species. Here I am reporting for duty.
'Now, you're probably thinking please God, don't let him drink beer out of a prosthetic limb again, or make some inappropriate joke that only the military among us would get?'
Former Army captain Harry famously drank champagne out of a prosthetic leg of a fellow veteran of the Afghanistan war during a 2013 charity trek to the South Pole.
Addressing the audience at the Lincoln Center in New York, Harry continued with his routine, saying ironically: 'I assure you, there's no need to worry, because I was born for this. As someone who never gets scrutinised, I haven't even had to prepare much.
He added: 'But out of an abundance of caution, I have been working on this particular act for quite some time. And everyone I know tells me it's perfect. And no, these aren't people who just tell me what I want to hear. Oh, no. These are people like my finance manager, my lawyer and of course my Reiki healer…'
A woman's cough is then heard offscreen, prompting Harry to backtrack, saying: 'So we're not doing anything? No. I thought it was going rather well.'
He's then handed a script from which he reads carefully: 'Thank you for having me to this splendid evening, celebrating our incredible veterans' – before adding: 'It's OK, I got this'… and launching into his sincere tribute to the military community.
The line-up of Monday's gig for the Bob Woodruff Foundation included comics Jimmy Carr, Ronny Chieng and Tracy Morgan – plus a surprise appearance from Bruce Springsteen.
Watch Harry's message in full here.
Published: 8 Nov 2023