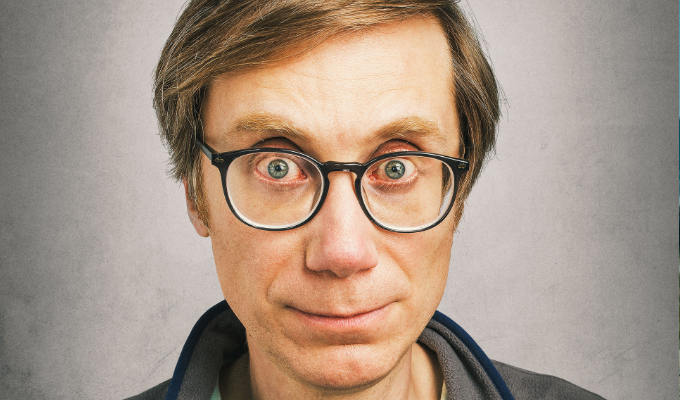 Stephen Merchant: Be careful who you slag off...
The first BBC Comedy Festival in Newcastle attracted some of the biggest stars in the business.
So big, in fact, there was nowhere to accommodate them.
Jon Petrie, the corporation's director of comedy commissioning, said organisers had rung around every hotel in the city, but none had a big enough bed for 6ft 8in Greg Davies or 6ft 7in Stephen Merchant.
'Know that they will be sleeping with their feet hanging over the edge of their beds,' the executive said at the launch of the second series of Merchant's show The Outlaws, which closed the festival.
Merchant also had a very specific tip amid all the practical advice doled out at the three-day event: beware who you slag off.
Speaking about how hard it was to get clothes to fit his frame, he said he once gave an interview in which he criticised High And Mighty – a shop which specifically catered for tall and wide men in the UK before it closed in 2018.
Some time after the interview appeared, Merchant was at a TV wardrobe fitting where an assistant was despatched to find something suitable for him.
Finding herself at a London branch of the chain, she asked at the counter: 'I'm buying for an actor, so would it be OK to return them if they don't fit?'
'Who is it?' the inquisitive shop assistant replied.
'I'm not at liberty to say,' came the response.
Whereupon the shop worker produced as laminated photograph of Merchant and said bluntly: 'We don't sell clothes to him.'
At the event, Merchant also welcomed the way the comedy industry was opening up to more diverse voices.
'When I started, it felt hard for me even thought the business was predominantly white-middle class men – so who knows how hard it was for anyone who didn't fit that model.
'The fact things have opened up and there are no limits on whose voice should be heard is great. But it's odd we're only talking about it now.'
Merchant also said he was 'nervous about the chipping away at the BBC' following a series of licence-free freezes.
'No one else gave Ricky [Gervais] and me the chance,' he said – adding that the similarly threatened Channel 4 also sought to develop new talent.
'Phoebe Waller-Bridge has a great deal with Amazon, but Amazon didn't find her, the BBC did. If we chip away, where are the next generation of comics going to get their chance?'
Published: 16 May 2022
Recent Punching Up
What do you think?