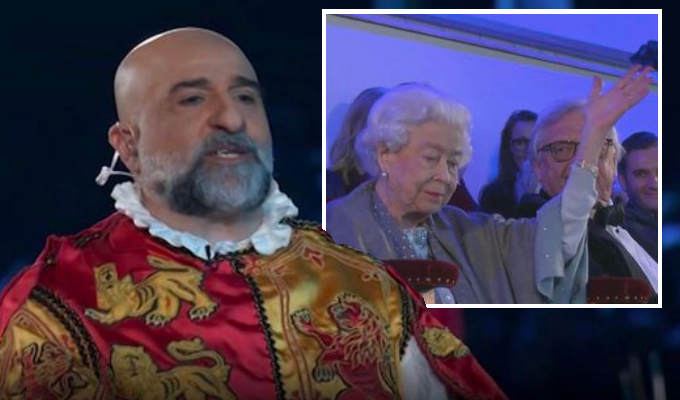 Off with his head!
Omid Djalili turned court jester yesterday to host the Gallop Through History platinum jubilee event in front of the Queen.
And she WAS amused by his performance – even if he made a major gaffe on royal protocol.
At the end of the show, the Anglo-Iranian comic made a gag about her decision to miss the State Opening of Parliament last week.
Djalili wrapped up by saying: 'Thank you to the Great British public who have shown up tonight, in the back there, wearing comfortable shoes and light rain-wear.
'Your Royal Highness, on behalf of everyone here we would like to thank you, very humbly, for picking us over the State Opening of Parliament.
'You did the right thing, and I won £5 in a bet with my local kebab shop owner in Ipswich.'
The Queen appeared to enjoy the quip, with ITV cameras capturing a subtle smile before raising her arm in the air.
However, Djalili made a slip of etiquette as the Queen should be addressed as 'Your Majesty', not ''Your Royal Highness'.
The comic played The Herald, introducing various parts of the show, which included 1,300 performers and 500 horses, at the end of the Royal Windsor Horse Show,
.
Published: 16 May 2022
Recent Punching Up
What do you think?