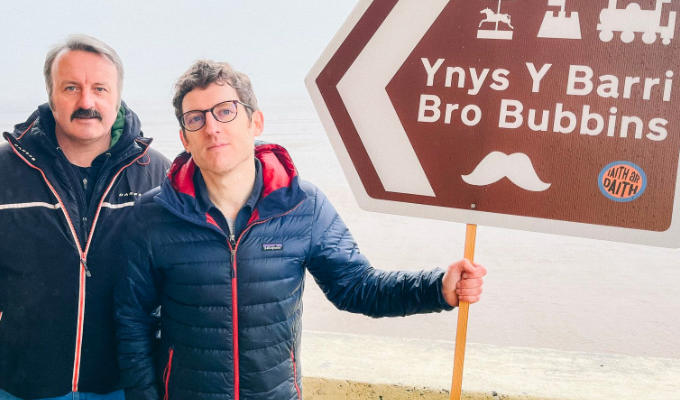 Why Mike Bubbins started learning Welsh
Comic Mike Bubbins has signed up to speak Welsh – for the sake of his children.
'My children speak Welsh fluently and I would like to have a conversation in Welsh with [them],' he said.
'There wasn't a lot of Welsh spoken in Barry in the 70s and 80s [where he grew up]. We would maybe say the Lord's Prayer every Tuesday and sing [the rugby anthem] Calon Lân but that was about it.
'As I get older, there's no excuse for me not to speak Welsh. The language is an important part of Welsh culture and that is what gives us our identity as a country.'
Fellow comic Elis James – his co-host on the Socially Distant Sports Bar podcast – has been his mentor, and their efforts will be shown on the S4C show Iaith Ar Daith (Welsh On The Road) this Sunday.
Elis said: 'We met doing stand-up in Cardiff and Mike has been a close friend for many years now. The thing with Mike is that he is very competitive, so he will want to be the best learner ever. He will want to win learner of the year.'
Their Iaith Ar Daith trip begins in Elis's hometown of Carmarthen, where they start working in a clothes shop in Welsh.
From here, the two head east through the Gwendraeth Valley to Cross Hands Cinema where one of his heroes, the singer Dafydd Iwan, is waiting for him and they duet on Yma o Hyd (Still Here).
Elis said: 'Mike was smiling all over his face after meeting Dafydd Iwan. He was thrilled. Yma o Hyd means quite a lot to Mike, I think.'
And for his final challenge, Mike had to conduct a guided tour around Barry Island in Welsh .
• Iaith Ar Daith aits at 8pm on Sunday on S4C.
Published: 21 Apr 2022
What do you think?